Bits & Bytes
A collection of the latest U2 news and announcements posted by our staff.

Posted: March 23, 2017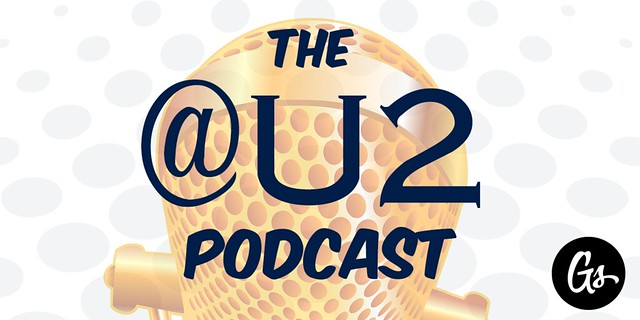 U2 published a teaser featuring the first 1:14 of the new mix of "Red Hill Mining Town," which will be released on Record Store Day (April 22). So, does it live up to the hype? Are the horns a good thing? Why did they decide to do this now vs. 10 years ago for the last anniversary release? All of this is discussed in the latest "b-side" podcast! Sherry Lawrence, Tassoula E. Kokkoris, and host Chris Enns cover all of it in just over 15 minutes. Enjoy!
If you've subscribed to the podcast via iTunes or your favorite RSS reader, you'll get the download automatically. You can also listen on the web:
@U2 Podcast #54: B-Side: Red Hill Mining Town Record Story Day Release
We have a couple hashtags you can use to contribute to the podcast going forward:
#askatu2 -- if you have a response to something you hear on the podcast, or just want to ask a question or suggest future topics
#atu2podcast -- send a photo of yourself listening to the podcast
Thanks again for listening!
Posted: March 22, 2017



U2 surprised members of U2.com today by releasing an additional Q&A video with fan questions sent in for the band's Facebook Live event on March 9. Filmed after Facebook's feed finished, the band answered a handful of questions ranging from The Dalton Brothers, country music, dancing the foxtrot, transitioning from arenas to stadiums, producers, and singing the album in sequence.

Bono also shared his thoughts about The Joshua Tree 2017 tour:

I can't wait for these shows. I wish there were more of them. Originally there were going to be 10, then it was 20 because we had to go to Europe. But there are so many places in the world we didn't get to and that sucks. But, we will get to you when Songs Of Experience is out, which won't be too long.

The video is behind the subscriber wall currently. (Special thank you for answering my Dalton Brothers question!)
Posted: March 21, 2017



Now it's official. U2 has announced the new mix of "Red Hill Mining Town" to be released on Record Store Day, April 22.

The 12" vinyl is a limited edition, mixed by producer Steve Lillywhite. Lillywhite had posted a picture of the disc at the beginning of the month via Twitter, but after intense fan speculation, he deleted the photo a few hours later.

The disc features two classic Anton Corbijn photos. The band posted a teaser video, in which you can listen to the new version of the song.

Information about Record Store Day stores: http://recordstoreday.co.uk/home/

Posted: March 20, 2017



"Rather arrogantly, we don't think you own [America]. We think America is an idea that belongs to people who need it most." – Bono

Tune in to NPR's Morning Edition to hear this and more as Bono and The Edge discuss the original title for The Joshua Tree, the upcoming anniversary tour and how they feel the music from that landmark album rings true today (thx David, for the tip).

Listen and read a re-cap of the highlights here.
Posted: March 14, 2017



According to Grammy.com, U2's bassist will receive the Stevie Ray Vaughan Award in recognition of his dedication to and support of the MusiCares MAP Fund, as well as his commitment to helping others with addiction recovery.

"Adam is a hero to fans and music creators around the world," said Neil Portnow, president and CEO of The Recording Academy and MusiCares. "And he is also a hero in the world of recovery for his fearless determination to give voice to the issues of addiction that affect — and all too often devastate — our music community."

"MusiCares does such vital work in helping vulnerable people across our industry," Adam said. "I know from experience the importance of an accessible, supportive environment in times of need and I'm always happy to do what I can to benefit this important organization. I'm very much looking forward to the event in June."

The 13th annual MusiCares MAP Fund benefit concert will take place at PlayStation Theater in New York on June 26 and it's open to the public. Performers will be announced shortly. Information about tickets is available at 310-392-3777 or wynniew@grammy.com.

Photo credit: Sam Jones

Posted: March 12, 2017



Are you subscribed to our YouTube channel? If not, now might be a good time to do so because we have a couple dozen U2-related videos that we'll be adding there between now and the start of the Joshua Tree tour -- and, of course, we'll be sharing plenty of concert videos once the tour begins.

Some of the videos we'll be adding you might've seen already, and some you probably haven't. We've recently added two videos from 1987 that are probably new to you: 1) MTV News' 1987 U2 Scrapbook, and 2) U2's appearance on NBC's Today Show on Sept. 11, 1987. Those are embedded below. But before or after you enjoy them, feel free to subscribe to our YouTube channel so you get alerts on YouTube as we add more old U2 videos.

Subscribe: @U2 on YouTube

Posted: March 08, 2017


How'd you like to have your best U2-related photos featured on our social media accounts? That's the idea behind #MyAtu2, a new feature that we'll be running on our Facebook, Twitter and Instagram accounts.
The photo can be pretty much anything, as long as it's U2-related: a concert photo, a selfie you took with one or more of the band members, a favorite U2 collectible, a ticket stub and so forth. There are two ways to have your photo considered:
1.) Send the photo and a short (couple sentences) description of it via email to atu2com@gmail.com. Please put #MyAtu2 in the subject line, and include your name and Twitter and/or Instagram handle(s).
2.) Share your photo via social media and tag it with #myatu2.
We'll watch our Inbox and that hashtag, and if we choose your photo, we'll share it on our social accounts with your name/handle and the description you sent. It's that simple! (Note: Due to expected quantity of submissions, we probably won't be able to acknowledge every email nor use every photo.)
By the way, if you're not already following us socially, why not fix that today? Here we are: