Bits & Bytes
A collection of the latest U2 news and announcements posted by our staff.

Posted: April 24, 2017



Here we go! With less than three weeks until the start of The Joshua Tree Tour 2017, we have our first official sightings of band and tour activity in Vancouver.

The Edge appears to be the first band member in the city -- he was spotted Sunday at an art gallery and Monday at a local restaurant. As far as we know, there have been no other band member sightings so far. Also spotted are the trucks that carry around U2's staging and gear from city to city. They appear to have begun loading in to BC Place stadium on Monday.

For proof, below are the Instagram and Twitter posts. The tour begins Friday, May 12.
Posted: April 23, 2017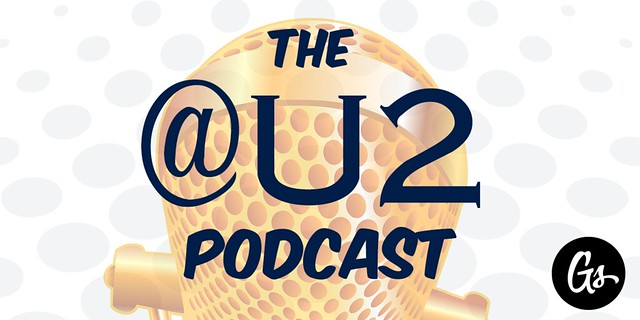 With The Joshua Tree Tour 2017 starting just a few weeks from now in Vancouver, the crew has started building the stage in ... Houston?!?! What's up with that? Becky Myers, Chris Enns and I try to answer that question in the latest @U2 podcast, a quick B-side episode talking about the leaked stage photo and videos plus a bit of conversation about Record Store Day.
If you've subscribed to the podcast via iTunes or your favorite RSS reader, you'll get the download automatically. You can also listen on the web:
@U2 Podcast #56 - B-Side: Joshua Tree Stage Being Built in Houston
We have a couple hashtags you can use to contribute to the podcast going forward:
#askatu2 — if you have a response to something you hear on the podcast, or just want to ask a question or suggest future topics
#atu2podcast — send a photo of yourself listening to the podcast
If you prefer a video podcast, this episode is on our YouTube channel and embedded below.

Thanks again for listening/watching!

Posted: April 20, 2017



Bono appeared on BBC Radio 2 with host Chris Evans Thursday morning and confirmed a longstanding rumor among U2 fans about why the band never played "Red Hill Mining Town" live:

I used to write songs that I couldn't sing. And sometimes that was OK because the strains of the notes I couldn't reach was part of the drama, but occasionally they would really just wreck the next show. So I just left 'Red Hill Mining Town' off. But since then, I sing a bit better -- or at least I've learned how to sing.

That confirms what many fans have long suspected -- that reaching some of the higher notes in the song is why U2 never played it live. Bono also told Evans that the band is planning to play The Joshua Tree in full and in sequence when the Joshua Tree Tour 2017 begins next month:

We're playing the album in sequence for the first time, and Red Hill Mining Town's turning out to be one of the most important tracks as we rehearse.

That's not new information, but it's good to hear that the band hasn't changed its mind. The U2.com Zootopia mods have uploaded the entire interview to SoundCloud, and you can listen here:

Meanwhile, several of our readers/Twitter followers have pointed out that "Red Hill Mining Town" is now available for purchase and/or streaming on iTunes, Spotify and other popular music services. You can listen via Spotify below. "Red Hill Mining Town" is released on vinyl this Saturday as part of Record Store Day.

Posted: April 18, 2017



UPDATE: As expected, the tweet and Facebook post showing the stage have been deleted, even though they were already retweeted and shared dozens (if not hundreds) of times, and seen by fans all around the world. Our story below has been edited with screenshots of what was posted.

One of our staffers came across this tweet that, if it's legitimate -- and I think it is -- shows U2's stage for The Joshua Tree Tour 2017 being built inside Houston's NRG Stadium.
The tweet was posted mid-day Monday by Weather Decision Technologies, a company that provides weather detection services and software for the concert and sports event industries, among others. It shows a photo of what looks like U2's stage for the upcoming tour -- a photo that, when I just ran it through Google's reverse image search, shows no prior online matches. In other words, Google thinks it's a new image.
The company also shared the same photo on its Facebook page, with some additional text:
At the U2 2017 Joshua Tree Tour set-up and rehearsal site in Houston meeting with production and security leads prior to the tour starting in May. It's a massive production and weather threats can be extremely impactful. That's why they utilize our WeatherOps services!
Conventional wisdom would suggest that the band should be setting up at BC Place Stadium in Vancouver by now, where the tour will begin on May 12. But that facility isn't available yet; the stadium will be used this weekend for a fair that's part of the annual Vancouver Sun Run event. So it's likely that the production team had to use another stadium for initial build of the stage and other pre-tour productions. The tour doesn't reach Houston until May 24, but there will likely be multiple stages in use, so a separate stage could be waiting to be built in Vancouver once BC Place is available.
There's a chance WDT wasn't supposed to post that photo online, but we've made screenshots of their tweet just in case.
UPDATE #2: Instagram user @goldsucog posted two videos from inside the stadium yesterday, and those are embedded below via our repost. NOTE: The audio in this first clip is REALLY LOUD. Be careful. If you have trouble viewing them, try these links direct to Instagram: video one and video two.
Posted: April 16, 2017


Continuing a tradition that goes back to U2's beginning, Irish DJ Dave Fanning gave a new U2 song its worldwide radio premiere on Sunday. But this time was a little different: It's not an entirely new song that he premiered, but the 2017 version of "Red Hill Mining Town."
The new version of the song, which will be released April 22 for Record Store Day and included on the 30th anniversary release of The Joshua Tree in June, was mixed by longtime U2 producer Steve Lillywhite. It features re-recorded vocals from Bono (the verses only, not the chorus) and a new mix that emphasizes Edge's backing vocals and contributions from a brass band called the Arklow Shipping Silver Band.
If you missed the premiere, a full stream is available from RTE's website. Start at about 1:19:45 and you'll hear it in full. (Note: The stream works for me in the US, but I don't know if it's available worldwide.) Fanning also reveals in the show that he'll have an interview with Steve Lillywhite on his show next Saturday (April 22).