Bits & Bytes
A collection of the latest U2 news and announcements posted by our staff.





The Edge will be honored during this year's Bonnaroo festival with the second annual Les Paul Spirit Award.

From the press release: "The prestigious award is presented annually to an individual who exemplifies the spirit of the late, great Les Paul through innovation, engineering, technology and/or music. In addition to the award, a grant from the Les Paul Foundation and Bonnaroo Works Fund will be made in The Edge's name to the charity of his choice which aligns with the mission of the Les Paul Foundation. Like Les Paul, The Edge personifies a spirit of excellence through musicianship and industry recognition."

Grateful Dead founding member, Bob Weir, is the only former recipient of the award.

The ceremony recognizing The Edge, "Bonnaroo Eats & Greets," is by invitation only and will take place the evening of June 9, the same night U2 are scheduled to perform at the festival.

Posted: May 24, 2017



There were probably three main questions fans were wondering coming into U2's show Wednesday night in Houston, Texas: One, was Sunday's setlist rearrangement just a one-time thing; two, would the show make any concessions to the fact that it's the band's first in a state that supported President Trump in the 2016 election; and three, how would the show acknowledge the terrorist attack in Manchester, England, two nights ago?

Answers: 1) nope; 2) yep, kinda; and 3) as appropriately as you'd expect them to.

It was the same setlist as Sunday night in Pasadena, so those changes could be on their way to being permanent. (Goodbye, "A Sort Of Homecoming"???) Bono was very effusive in his praise of America, including President George W. Bush and his wife, Laura, the latter of whom showed up for the first time on the women icons collage during "Ultraviolet." And lastly, Bono acknowledge the attack a couple times during the show and dedicated "One Tree Hill" to the victims.

See the full Houston setlist and recap.

Next up for U2? Its second and last show in Texas -- Friday night in Dallas.





U2 visited Jimmy Kimmel Live! this evening, performing two songs and chatting for most of the show with host Jimmy Kimmel. With over 200 in the studio audience, the band was joined by the Selah Gospel Choir for "I Still Haven't Found What I'm Looking For," and closed out the show with "The Little Things That Give You Away." Prior to the performances, the band talked about The Joshua Tree reissue and tour, as well as Songs Of Experience. Bono blamed Edge for the delay of the new album, to which Edge jokingly said that it'll be out within 27 years. Kimmel also asked the band about their 1987 alter egos, The Dalton Brothers, which prompted Bono to sing an abbreviated, a cappella version of "Lucille" -- one of the songs The Daltons used to sing as U2's opening act (and a song which they hadn't sung since December 12, 1987).

Kimmel asked the band about the tragedy in Manchester, England. Bono talked about how terrible it was and how wonderful it was to see so many people helping each other. Bono was also asked about his feelings about U.S. President Donald Trump. Bono said he respected and understood the frustrations of the Republicans who voted for him, but that Trump isn't the person we need in power right now.

During the commerical breaks, Bono spoke with Kimmel's security guard, Guillermo, about how the Irish and Mexicans are similar.

The show will air tonight on ABC television at 11:35 pm EDT / 10:35 CDT.

Posted: May 21, 2017



Either U2 is still tweaking the show and trying to find a running order they're happy with, or tonight's show had a rearranged setlist just because it was the second show in Pasadena. Perhaps we'll find out later this week. In any case, the fifth show of The Joshua Tree Tour 2017 is in the books and while the songs didn't change much, the order sure did. U2 did two encores tonight, the first time that's happened this tour. There were only three pre-Joshua Tree songs, the first time that's happened, too. Another first that many longtime fans won't like: "A Sort Of Homecoming" was dropped for the first time this tour. Definitely a different show from the first four.

See the full Pasadena #2 setlist.

If you were at the show, we'd love for you to share your photos and/or review at the link above. Next up? U2 appears on ABC's Jimmy Kimmel Live on Tuesday.

Posted: May 20, 2017



The Joshua Tree Tour 2017 arrived in the Los Angeles area Saturday for the first of two shows at the Rose Bowl. It's the first of three occasions this tour where the band will be playing more than one show in the same city. That may have been what prompted a couple small tweaks to the setlist -- the need to mix things up a bit since there are two shows at this venue this weekend. The changes came at the end of the show, where the new song, "The Little Things That Give You Away," was dropped in favor of "Bad" and an impromptu version of "I Will Follow" was added.

See the full Pasadena #1 set list.

If you were at the show, we'd love for you to share your photos and/or review at the link above. Next up? Pasadena #2 on Sunday night.

Posted: May 18, 2017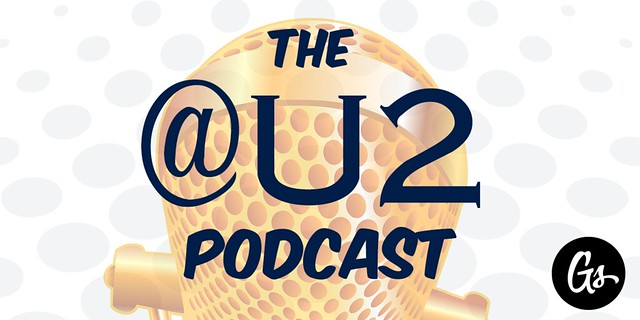 On May 12, U2 launched the 30th anniversary tour of their beloved album, The Joshua Tree. Thousands of fans converged on BC Place in Vancouver, British Columbia, Canada for the show, which included some of the band's most celebrated hits. After the show, several atu2 staff members gathered in a nearby hotel to eat a traditional post-show pizza, decompress and discuss various elements of the experience. Due to some equipment issues, the show was recorded as a Periscope stream vs. a traditional podcast, so that's what you'll hear in this episode. Join Sherry, Tassoula, Becky, Jill and Staff Emeritus Michelle to hear their thoughts as Chris hosts with questions from the live chat.
If you've subscribed to the podcast via iTunes or your favorite RSS reader, you'll get the download automatically. You can also listen on the web:
@U2 Podcast 59 — Ultraviolet: Opening Night of The Joshua Tree Tour 2017
We have a couple hashtags you can use to contribute to the podcast going forward:
#askatu2 — if you have a response to something you hear on the podcast, or just want to ask a question or suggest future topics
#atu2podcast — send a photo of yourself listening to the podcast
Thanks for listening!
Beside kicking off The Joshua Tree Tour 2017 on Friday, U2 dropped a new single for "I Still Haven't Found What I'm Looking For," featuring the New Voices Of Freedom. The version was recorded at Madison Square Garden on Sept. 28, 1987 during the show's encore. The concert is featured as bonus material for the band's upcoming 30th anniversary release for The Joshua Tree. The single is $1.29 through Google Play and Amazon. The cost is $2.19 through iTunes.
Wondering what to get Bono for his birthday? The African Well Fund has you covered with the gift of clean water. Bono's even said it's one of his favorite gifts. This year's Build A Well For Bono's Birthday fundraiser launches today and will go through May 31.
The African Well Fund's BBW campaign will support a sustainable water project in Senegal. The previous 14 fundraisers have raised over $255,000 for clean water and sanitation projects benefiting more than 60,000 people in Angola, Benin, Burkina Faso, Liberia, Mali, Uganda and Zimbabwe. The goal this year is to raise $15,000 to celebrate 15 years of fundraising.

After making a gift, don't forget to sign the birthday card. Members of the African Well Fund will handcraft a birthday card with everyone's well wishes (pun intended) to present to Bono later this year.