Bits & Bytes
A collection of the latest U2 news and announcements posted by our staff.

Posted: December 12, 2017


U2 has joined a long list of major artists in releasing never-before-heard versions of songs under the "Spotify Singles" feature on the Spotify streaming service. The pair of songs just went online at midnight ET (Wednesday morning) in North America, and should be available on all other international Spotify platforms, too. Since it began last year, Spotify Singles has invited artists big and small to re-record one original song and one cover song just for Spotify. U2's songs are:
"The Little Things That Give You Away" (recorded at Neptune Valley, LA)
"What's Going On" (recorded at Neptune Valley, LA)
(The recording location is included with these tracks because many/most artists record their Spotify Singles at Spotify's New York City studios.)

The new version of "The Little Things..." runs 12 seconds longer than the album version (5:07 versus 4:55) and -- after a quick listen -- sounds more like the piano-heavy version that U2 played during the Joshua Tree 2017 Tour. (There may be other differences I haven't sussed out yet.)

"What's Going On" is a cover of the popular Marvin Gaye hit and the first time U2 has released a full-band version of the song. In 2001, Bono led an all-star group that called itself Artists Against AIDS Worldwide and recorded the song just days before the September 11 attacks as a fund raiser in the fight against AIDS. That plan changed and proceeds from the single were earmarked both for AIDS victims and victims of the 9/11 attacks. U2 also performed the song live throughout the third leg of the Elevation tour with No Doubt's Gwen Stefani trading vocals with Bono.

Posted: December 10, 2017


Songs Of Experience has given U2 its eighth number one album on the Billboard charts.

Billboard says the album won its opening week with 186,000 "equivalent album units," of which 180,000 were traditional album sales. The other 6,000 come from Billboard's system that converts streams and digital track sales into an estimated equivalent number of album sales. (For example, 1,500 streams from an album or 10 digital track purchases are counted as one album sale.)

Songs Of Experience benefitted from being bundled with ticket sales for next year's Experience + Innocence tour, a tactic that many artists have used in recent years to bump up an album's sales volume. Without that kind of boost, the album didn't fare as well on the charts in several other countries, including a No. 5 debut in both the UK and Australia.

The last U2 album to top the Billboard charts was No Line On The Horizon in 2009 with 484,000 albums sold in its debut week. In 2014, Songs Of Innocence had essentially no chance to top the charts because it was given away for free to iTunes account holders for more than a month before it went on sale.

U2 becomes the first group to have a No. 1 album in the 1980s, 1990s, 2000s and 2010s. Janet Jackson, Bruce Springsteen and Barbra Streisand are the only other artists to do that. The band's previous seven No. 1 albums are No Line On The Horizon, How To Dismantle An Atomic Bomb, Pop, Zooropa, Achtung Baby, Rattle And Hum and The Joshua Tree.

The full album chart, with Songs Of Experience at No. 1, will be posted on Billboard.com on Tuesday.

Posted: December 10, 2017


U2's promo tour for Songs Of Experience continued with Bono & Edge appearing Sunday night on the Italian TV show, Che Tempo Che Fa. Their appearance was recorded Thursday night, and featured three acoustic performances -- "You're The Best Thing About" and "Get Out Of Your Own Way" at the start of the show, and "Sunday Bloody Sunday" at the end. In between, Bono and Edge sat down for a conversation with host Fabio Fazio.

You can watch the entire program on Soundsblog.it. (Note: Audio is in Italian.) We also have links to the individual song videos on the Tours concert listing for this performance.

Posted: December 08, 2017


Despite a promising mid-week report from the UK Official Charts, U2's Songs Of Experience didn't debut at No. 1 on the UK charts today; it came in at No. 5 and was the highest debut of the week. The top album on the UK charts this week belongs to Sam Smith's The Thrill Of It All. Also ahead of U2 are Ed Sheeran, Michael Ball & Alfie Boe, and Pink.

Other charts are also reporting today, and Songs Of Experience is...

The newest U.S./Billboard chart positions should be announced this weekend, along with Australia and others. For a full list, keep an eye on U2Songs.com -- our friends there are adding new chart debuts as they come in.

UPDATE: Songs Of Experience has debuted at No. 5 on the Australian album charts and No. 9 in New Zealand.

Posted: December 08, 2017



We're coming up on the 16th anniversary of U2's (incredible) performance at halftime of Super Bowl XXXVI, and that performance is featured in a new NFL Network show called Super Bowl's Greatest Halftime Shows.

It features new interviews with several NFL executives that were involved in planning that halftime show and a couple players from both the Patriots and Rams. There's also footage from U2's Super Bowl press conference and their post-9/11 shows at Madison Square Garden (footage that I'd never seen before). Maybe best of all, it includes the band's complete halftime performance, too.

The program premiered last Saturday and will probably be repeated in the coming days/weeks on the NFL Network. But no worries if it's not repeated; you can watch the show without the commercial breaks on the network's YouTube channel.

Posted: December 07, 2017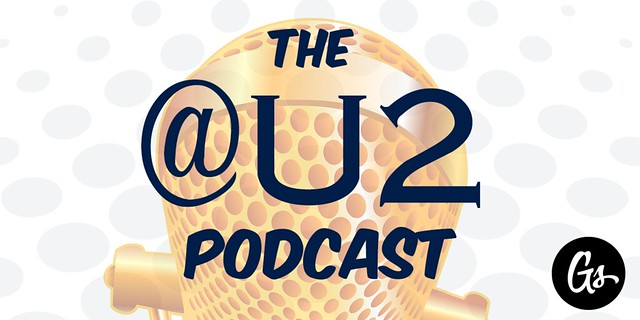 It's only been six days since the new album was released, but our staff is still discussing it like a newborn. In this second installment of reactions to Songs Of Experience, hear Tassoula, OMG Chris, Collin, and Chris break it down song by song and get into all the love and hate they could handle.
If you've subscribed to the podcast via iTunes or your favorite RSS reader, you'll get the download automatically. You can also listen on the web:
@U2 Podcast #74: What if this was the best option they thought of?
We have a couple hashtags you can use to contribute to the podcast going forward:
#askatu2 — if you have a response to something you hear on the podcast, or just want to ask a question or suggest future topics
#atu2podcast — send a photo of yourself listening to the podcast and/or yourself listening to Songs Of Experience for the first time!
Thanks for listening! You can watch a recorded version of the live video stream below.

Posted: December 02, 2017



After a short break, we are pleased to inform you that the @U2 Forum has reopened for conversation and community!

The mod team has made a few minor changes, but existing forum members should find things largely as they were before the break. All member data has been preserved. New members are always welcome, too, of course.

We look forward to seeing everyone again to discuss Songs Of Experience and the forthcoming tour dates.

Visit the @U2 Forum! (Please be sure to read the "welcome back" message from the mods.)

Posted: November 28, 2017


Bono returned for the third year as a significant part of the Jimmy Kimmel Live (RED) Show tonight to raise funds to fight HIV/AIDS in advance of World AIDS Day Dec. 1. He appeared during several segments of the program, but the highlight was his performance of "One for My Baby," with Chris Martin of Coldplay playing piano and sharing some vocals, accompanied by a small string ensemble. Actor Sean Penn played a silent role as the bartender Bono sang to.

The annual show raises funds by highlighting (RED) campaign items for sale via various skits.

In addition to Bono, the star-studded cast included Kristen Bell, Rita Wilson, Diddy, DJ Khaled, Bryan Cranston and Ashton Kutcher.

Bono first appeared during a sit-down chat with Kimmel, both perched next to a red piano, to discuss progress in the fight against AIDS. Former President Barack Obama also appeared in this segment via video, calling Bono the "ringmaster" of a home shopping extravaganza.

Bono talked as well about an opportunity to win a chance to play miniature golf with U2 via Omaze.com, saying the band made a pact early on to never play golf, but would break that vow to raise funds for charity.

He also talked about the support of the hip-hip community during the early years of the (RED) campaign, followed by Diddy walking out with a check for $500,000 million representing funds that have been donated to the fight against HIV/AIDS.

Bono also joined the rest of the guests at the end for a reprise of the song "We're Going to Hell," written by Brandon Flowers and first performed last year.

Those in the studio audience were lucky enough to hear both musical numbers performed twice, and to see Bono in group hugs with Martin, Penn, Diddy and Kimmel sidekick Guillermo.

Posted: November 24, 2017


Uber-artist Edge, guitar man from the future, is also a talented camera man. Evidence: Photographs he took with the band on their sojourn through the California desert in 1986 while making The Joshua Tree album are on display for the first time ever and for sale at Arcane Space in Venice, California.
Arcane Space was co-created by Morleigh Steinberg, Edge's wife and an artist who just ended an exhibit of her own photographs. The tranquil room is filled with a variety of Edge's photos including landscapes, a self-portrait and images of band members, through Dec. 17, 11 a.m. to 6 p.m. Tuesdays and Thursdays through Sundays.
Prints from "The Joshua Tree" exhibit are for sale, with proceeds benefiting the GO Campaign, a nonprofit in Santa Monica that supports vulnerable children.
Arcane Space is at 324 Sunset Ave. See photographs of the exhibit space here.