Bits & Bytes
A collection of the latest U2 news and announcements posted by our staff.

Posted: May 05, 2016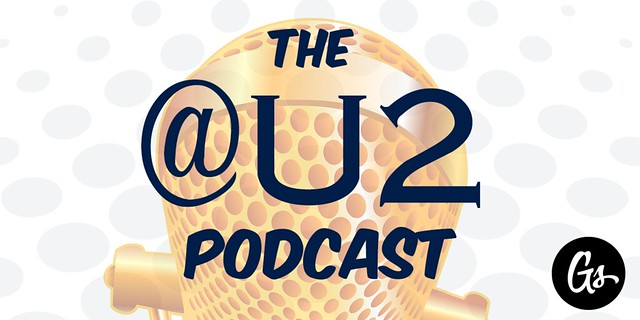 We almost called this one "Stage 5 'Iris'" because @U2 staffer Jill Marino had an emotional face-to-face (and forehead-to-forehead) meeting with Bono last week in New York City. She's the "real-life crying emoji" mentioned in the actual title, and episode 31 includes her story of that meeting. We also talk about the final set of U2 Fan Survey results and discuss how some U2 fans are able to go to so many concerts.
Jill, Tassoula E. Kokkoris and I joined host Chris Enns for this week's show, which runs 65 minutes. If you've subscribed to the podcast via iTunes or your favorite RSS reader, you'll get the download automatically. You can also listen on the web:
@U2 Podcast #31: Bono Met the Real-life, Crying emoji
We have a couple hashtags you can use to contribute to the podcast going forward:
#askatu2 -- if you have a response to something you hear on the podcast, or just want to ask a question or suggest future topics
#atu2podcast -- send a photo of yourself listening to the podcast
Thanks again for listening!

Posted: May 05, 2016



An interview with Edge on Off Camera with Sam Jones will air at 8 p.m. Monday, May 9, on DirecTV's Audience Network Channel 239 and AT&T Uverse Channel 1114.

If you're not familiar with Jones or his TV show/podcast/magazine, he's a photographer-director who does long-form interviews with noted folks, so this should not by a soundbyte interview. Preview:

Posted: May 02, 2016



Here at @U2, one of the things we're most proud of is the original content we provide, created exclusively by our staff. In case you missed any of it in April, the highlights are posted below:

In our weekly Off the Record column, Matt McGee felt his age getting the best of him while watching the IHeartRadio awards, while Fernanda Bottini made a case for activism via rock stars. The following week, Tassoula E. Kokkoris lobbied for U2 to play one of their albums as a concert setlist, and closing out the month, Sherry Lawrence mourned all of the recent losses in the music industry and U2 family.

Matt also released the four installments of our Fan Survey results:

And, the @U2 Podcast featured these episodes:

To leave feedback on any of these @U2 originals, please visit our forum.
Posted: May 02, 2016



What do you give to a 56 year old rock star who has everything? The African Well Fund has a great idea - a well!

For the 14th year, the African Well Fund is celebrating Bono's birthday by inviting everyone to make a donation in Bono's name to a clean water project in Africa. So far, U2 fans and supporters have raised $245,000 for Bono's birthday, benefitting over 73,000 people in Benin, Angola, Mali, Liberia, Burkina Faso, Uganda and Zimbabwe. This year, their goal is to raise another $5,000 to bring that total to a cool quarter million.

After making your donation, don't forget to sign the birthday card. Every year, a hand-made card gets delivered to Bono and your message will be included as a donor to the campaign. Bono has said it's his favorite birthday gift, so let's keep up the tradition of the gift that keeps on giving. Donations will be accepted through May 31 for this year's Build A Well For Bono's Birthday campaign.

Posted: April 30, 2016



Edge's trip to the Vatican this week wasn't just about hearing the Pope speak at that conference on regenerative medicine. He was also there to perform, and he apparently made history in the process.

Edge helped close the conference Saturday night by performing at least one song ("Ordinary Love") inside the Sistine Chapel. Those in attendance were saying that it's the first contemporary music performance inside the famous building, which opened in 1483. Here's a short clip of Edge's performance.

UPDATE: NBC News reports Edge also played "Yahweh," "Walk On" and Leonard Cohen's "If It Be Your Will." A young Irish choir joined him with backing vocals. Edge said, "When I was asked to perform in the Sistine Chapel I didn't know what to say, because usually there's 'this other guy' who sings (referring to Bono) ... So it took me at least, well, 30 seconds to agree to it."

Posted: April 29, 2016



Bono accepted the We Are Family Foundation's Humanitarian Award at a gala event Friday night in New York City, and took the stage to perform four U2 songs, too. The award is given to "a person in the public eye who has made tremendous efforts and inroads into making the human condition better throughout the world." Previous recipients include Sir Elton John, Peter Gabriel, Sting and Trudie Styler and others.

But the highlight of the night was when Bono joined Nile Rodgers (the foundation's founder) and Chic for a four-song set featuring some of U2's biggest hits: "Pride," "I Still Haven't Found What I'm Looking For," "Beautiful Day" and "Mysterious Ways."

@U2's Karen Lindell was at the event taking photos and providing fans with a Periscope livestream of the live performance. Here are a couple of her tweets/photos, and you can visit @U2 Tours for more on the show and links to videos from the event.

Posted: April 29, 2016



A beanie-wearing Edge met Pope Francis today at the third international Vatican conference on regenerative medicine. Edge sat in the front row with other dignitaries as the Pope, US Vice President Joe Biden and others spoke about medical research and cures for cancer and other diseases.

Edge's daughter was diagnosed with leukemia years ago, and he's been an active learner and champion of medical research since then; he joined the board of the Angiogenesis Foundation in 2007, and participated in the Stand Up To Cancer telethon in 2010.

Below are some news clips from the conference, most of which focus on the Pope and VP Biden, but both show Edge at least briefly. First is a photo of Edge and Pope Francis meeting.

There's a longer video of the Pope's speech (in Italian), and you can see him greet Edge at about the 14:30 mark.

Posted: April 26, 2016


The fourth and last set of results from the 2016 U2 Fan Survey is now available, and this batch has your votes on the full "Tours" section of the survey, "Current Events" and more. Here are few things to look for as you dig into the 40+ survey questions/answers that have just been added:

I+E tour rated very highly: Even though large portions of U2 fandom didn't even get a chance to see the Innocence + Experience tour in their home towns/countries, it was voted the second-favorite tour overall (behind Zoo TV). More than 22 percent voted I+E as their favorite U2 tour. Later in the survey, the I+E tour was voted fans' favorite tour video screen.

Most fans see a couple shows per tour: In this year's survey, we learn that 73 percent of fans have seen 15 or fewer U2 concerts (according to question G2). Back in question B1, we learned that about the same number of fans (74 percent) became U2 fans in 1996 or earlier. So that group has been fans for at least five U2 tours -- PopMart, Elevation, Vertigo, 360 and I+E -- and many have been fans for 8-9 tours. Put these two together and you see that the typical U2 fan sees three or fewer shows per tour. If you see more, your experience is out of the ordinary.

We want post-show recordings, please: A whopping 96 percent of fans would be willing to pay if U2 offered live recordings of concerts immediately after the shows end.

Bono is most indispensable U2 member: Every survey we've done has asked fans to decide if U2 should continue as a band if one person leaves. It's a way of finding out who fans think is the most important member of the band, the guy you think "U2 can't continue without (HIM) in the band." In all of our previous surveys, The Edge has won the honor as most indispensable band member. Not this time. Bono wins with 95.16 percent saying no, U2 should not continue without him. That barely beat Edge's 95.10 percent.

That's just a taste of what you'll find in this latest batch of survey results. Here's the link for all 40+ new questions, which you'll find in sections G, H and I at this link:

That's the full set of survey results! Thanks to everyone who participated this year, and thanks for your patience as we posted all the results.

Posted: April 26, 2016



Bono joined Pastor Eugene Peterson to chat about the Psalms for a short film for Fuller Studio, a new e-resource by Fuller Theological Seminary. Filmed last April, the almost 22-minute documentary debuted on YouTube today. The conversation took place at Peterson's home in Montana ahead of U2's launch of the Innocence + Experience tour. Bono references his earliest memories of the Psalms, the violence in Dublin in 1974 captured in "Raised By Wolves," and his affinity toward the psalmist. Bono said, "The psalmist is brutally honest about the explosive joy that he is feeling and the deep sorrow or confusion, and it's that that sets the Psalms apart for me."

The documentary explores Bono and Peterson's friendship, which was fostered at the start of the millennium when Bono sent Peterson a video thanking him for his The Message translation. Angela Pancella interviewed Peterson for her @U2 Connections article in 2002, where he admitted he wasn't able to meet with Bono at the time. Since then, Peterson and his wife Jan traveled to Dallas in 2009 for a three-hour lunch with Bono and took in the U2360 show. Scott Calhoun shared some of the documentary's behind the scenes stories on the @U2 Blog.