Bits & Bytes
A collection of the latest U2 news and announcements posted by our staff.

Posted: October 12, 2015



While speaking with Entertainment Weekly about the upcoming 25th anniversary of Achtung Baby, Bono also shared some tantalizing details about Songs Of Experience: "It's very epic. It's very up. And, you know, that's probably what the experience has taught us: to be fully in the moment and that fun is respected, and joy is not to be let go of."

The article also says U2 has about 18 songs right now, of which about 12 will be included on Songs Of Experience. One of the new songs may be called "Tightrope," Bono says: "Edge just came up with a cracker the other day! It's provisionally titled 'Tightrope.'"

There is still no mention of a release date.

Posted: October 12, 2015



U2 will perform this week on the return of Chris Evans' UK TV program, TFI Friday. The show is due to premiere on Channel 4 at 8:00 pm Friday, and will also feature guests Take That, Steve Coogan, Slaves and Saoirse Ronan.

TFI Friday first ran from 1996 to 2000, and included an appearance by Bono and Edge on March 17, 2000, in which they performed an acoustic version of "The Ground Beneath Her Feet."

Posted: October 10, 2015



U2's four-show stay in Barcelona came to an end Saturday with a veritable party on the e-stage. Actors (and spouses) Penelope Cruz and Javier Bardem were on stage in wigs/hats during "Mysterious Ways" and "Desire," the latter of which also featured a fan on stage playing bass. But the real treat came after that, when U2 played "Spanish Eyes" for the first time since September 2010, and only the 17th time overall.

Here are the setlists and recaps from all four shows in Barcelona:

Next up for U2 is a pair of shows in Antwerp, Belgium, on Tuesday and Wednesday.

Below, video of "Spanish Eyes" from today's Barcelona show as captured by U2gigs.com.

Posted: October 08, 2015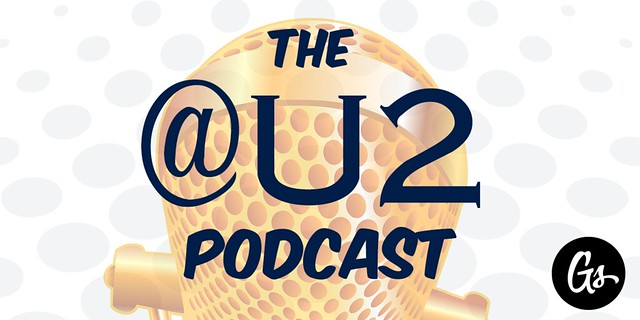 Episode 13 of the @U2 podcast is now available! This week, Chris Enns chatting with Sherry Lawrence and myself about the pros and cons of U2 not having an opening act on this year's I+E tour. There's also a comical new "Name That U2 Song" segment pitting Sherry and me against the fans listening live in the chat room. And we answer another batch of #askatu2 questions, as well.
This week's episode runs 58 minutes. If you've subscribed to the podcast via iTunes or your favorite RSS reader, you'll get the download automatically. Or you can listen on the web:
@U2 Podcast #13: I Worship at ZooTV's Altar
A couple reminders:
If you enjoy the podcasts, please rate us on iTunes -- this will tell Apple that we're doing a good job and they'll be more likely to give the podcast extra visibility. In other words, your positive rating will help other U2 fans find us. (You actually have to go into the iTunes software to leave a rating, can't do it via that web page.)
If you have a response to something you hear on the podcast, or just want to ask a question or suggest future topics, use the #askatu2 hashtag on Twitter. If you have a U2 trivia question for us, use the #stumpm2 hashtag.
Thanks again for listening!

Posted: January 15, 2015


We've had a few questions come in about legitimate places to buy, sell or trade U2 concert tickets with other fans, so consider this a Public Service Announcement aimed at answering a question that may be on a lot of fans' minds.
Officially, there are still some tickets for certain shows available via official ticket outlets (i.e., Ticketmaster in North America). The tour page on U2.com appears to be pretty up-to-date about which shows still have tickets available.
Beyond that, we also have a dedicated board in our forum for fans to buy, sell and trade tickets directly with other fans and only at face value. All of the existing shows are listed individually, so just find the show(s) you're interested in and add your post or see what others have already posted. Selling or trading GA tickets may be difficult due to the paperless ticket requirements, so keep that in mind as you offer those tickets or search for them.
And be sure, if you do use this section of our forum, to read the post at the top of the board -- "Rules for Ticket Buying/Selling/Trading." We don't hesitate to boot people that try to make a profit from selling tickets in our forum.