Bits & Bytes
A collection of the latest U2 news and announcements posted by our staff.

Posted: November 24, 2015



The first two shows of U2's homecoming in Dublin are in the books, and the audience was treated to two of the most intimate shows of the entire tour. The staging has been retrofitted down to fit the smaller and uniquely-shaped layout of 3Arena. If you were unable to follow along to any of the live streams, check out our recaps and set lists below:

U2 has two more shows at 3Arena on Friday and Saturday.

Posted: November 23, 2015


U2 have announced replacement dates for the two I+E shows that were postponed because of the attacks in Paris. The new dates are Dec. 6-7 at the AccorHotels Arena. Also, the U2 Innocence + Experience Live from Paris HBO special will now air on Dec. 7 instead of the initially scheduled Nov. 14.

"So much that was taken from Paris on the tragic night of November 13th is irreplaceable," said Bono, according to U2.com. "For one night, the killers took lives, took music, took peace of mind -- but they couldn't steal the spirit of that city. It's a spirit our band knows well and will try to serve when we return for the postponed shows on December 6th and 7th. We're going to put on our best for Paris."

Tickets for the third Paris show (originally November 14) will be valid for the December 6th show, and tickets for the last Paris show (originally November 15) will be valid for the December 7th show. That show on December 7 will also be broadcast by HBO at 9:00 pm ET.

Posted: November 22, 2015



It's time for the 17th annual U2 Fan Christmas/Holiday Card Exchange, a chance for U2 fans to send greetings of the season to other fans worldwide!

To participate:
Send a message to u2christmas@gmail.com and give me your postal mailing address.
If you wish to participate, plan on sending at least 10 cards.
In early December, I will e-mail you the addresses of fellow U2 fans to send cards to.
Please let me know by December 5th if you want to be part of the card exchange. That way there will be time for cards to get to their destinations around the world.
Thanks again for participating and have fun!

Posted: November 22, 2015



In a recent interview with the Spanish newspaper El Pais, photographer Anton Corbijn said he was working again with U2 and that the band's next album will be released in September 2016.

Corbijn said that due to his commitments to cinema, he had to advance the photos of Bono and his bandmates for the album.

In September, Anton shared a photo with The Edge captioned: "Photo shoot Holland." We believe this material will be used in the next album.

Posted: November 19, 2015



U2 wrapped up its two-night stay in Belfast on Thursday with a snippet-filled show at the SSE Arena. If you didn't follow along on Twitter or via the fans' live audio/video streams, here's the set list:

Next up for U2? Four final shows of the year in their hometown of Dublin, starting Monday.

Posted: November 19, 2015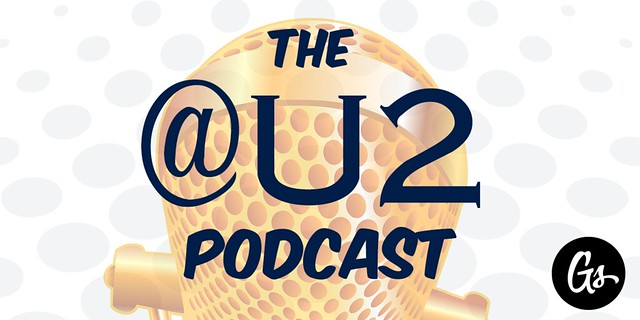 The newest edition of our weekly podcast is now available for your listening pleasure. This week, host Chris Enns is joined by staffer Sherry Lawrence and our special guest for the week, Mark Baker -- aka, U2BROTHR -- who talks about his experience last week winning the U2.com Paris contest, and then having to turn around and head home after the tragic attacks that forced the cancellation of two shows. There's also a round of "Name That U2 Tune" and so much more!
This week's episode runs 84 minutes. If you've subscribed to the podcast via iTunes or your favorite RSS reader, you'll get the download automatically. Or you can listen on the web:
@U2 Podcast #18: Bono Called an Audible
We have a few hashtags you can use to contribute to the podcast going forward:
#askatu2 -- if you have a response to something you hear on the podcast, or just want to ask a question or suggest future topics
#stumpm2 -- if you have a U2 trivia question for us
#U2AG -- if you have a question for Answer Guy to answer (we're gonna try to bring him back on a regular basis, so some great questions would help!)
Thanks again for listening!

Posted: November 18, 2015



U2 returned to the stage Wednesday night for the first of two shows in Belfast -- the band's first shows after the recent terrorist attacks forced the cancellation of last weekend's planned shows in Paris. And by all accounts, tonight's show was as emotional a return to the stage as you'd expect. Bono referenced the attacks several times throughout the show, and repeated the call for mercy toward refugees that he's been making throughout the European tour. A high point Wednesday night came during the encore when the entire arena was lit in the colors of the French flag, while the recent Eiffel Tower-themed peace symbol showed on the video screen with the fan-created hashtag #StrongerThanFear.

There were other tributes and changes during the show, so check out our Belfast #1 recap and setlist if you need to catch up. U2 is back on stage at the SSE Arena on Thursday.

Posted: November 18, 2015



Bono joins George W. Bush, Dr. Carl June and others in HBO's Vice Special Report: Countdown To Zero on World AIDS Day, December 1 at 9 p.m. EST. The report will highlight current research being done to cure HIV AIDS, as well as show how those living with the disease are no longer being given a life sentence. It will be available on HBO On Demand starting Dec. 2.

Posted: November 14, 2015



Bono told Dave Fanning on his RTE 2FM radio show this morning that the remaining two shows in Paris have been postponed. "It's up to the French authorities and the city to decide when we can go back," he said. (In a Tweet from the AccorHotels Arena - formerly Bercy Arena - the venue states "Following the Attacks on Paris last night, the AccorHotels Arena is closed to the public. U2 shows scheduled november 14 & 15 are cancelled." It is @U2's understanding that U2 will reschedule the tour dates given Bono's statement to Fanning.)

Bono told Fanning:

Everybody is safe in our party, which is great. We haven't heard of any of our fans yet down. Thank God for that. Really our first thoughts at this point are with the Eagles fans, the Eagles of Death Metal and this is if you think about it, the majority of victims last night are music fans. This is the first direct hit on music that we've had in this so called war-on-terror or whatever it's called. It's very upsetting. These are our people. This could be me at a show. You at a show, in that venue. It's a very recognizable situation for you and for me and the coldblooded aspect of this slaughter is deeply disturbing and that's what I can't get out of my head. ... I mean again we didn't call it off. It was cancelled, honest, and I understand perfectly why. I think music is very important. I think U2 has a role to play and I can't wait till we get back to Paris and play and that's what I'm feeling from the messages we're receiving from music fans is these people will not set our agenda. They will not organize our lives for us. I remember U2 is the first big act back into New York after 9/11. We played Madison Square Garden and the feeling of Madison Square Garden was just unbelievable and the feeling was just this is who we are, you can't change it. You're not gonna turn us into haters or you're not gonna turn us around in the way we go about our lives. That was the feeling of Madison Square Garden back then and I hope that will be the feeling at Bercy when we get back there.

Bono also shared with Fanning about a trip he took with Ali and the Edun team to Mali. While there, they attended the Festival in the Desert in Timbuktu a few years ago:

We were just revelers at this desert festival, but there was tension there – there were rocket launchers at the edge of the festival site – within a few weeks, Mali had been overpowered by these Islamist extremists. They had overturned the library in Timbuktu and these sacred manuscripts. The inn, the small hotel that we were staying was now the head of the Islamic justice. Musicians were having their hands cut off in the same hotel that we slept in and ate in. You just realized they hate music. They hate women. They hate all the things that we love. This is an illness that's in the world now and we just can't give into it, and try to be sympathetic to the people who are fallen prey to this illness and of course we should love our enemies and all of that. They are victims too. But, we can't have them decide how we live.

Fanning asked Bono that as he's met with many world leaders if he's ever met with any Islamic extremists to try to reason and understand them. Bono said, "I have been in rooms with people who have views that I don't subscribe to but the kind of ones that will slaughter people on YouTube, I haven't sat with them. No."

Bono told Fanning that U2 and crew were at venue last night as all of the events were unfolding. "In our security, Brian Murphy and all the people, they locked it down pretty quickly and we got our team and our crew out of there safely. Came to the back door of the hotel. Everyone congregated and watched the TV like everybody else in disbelief with what was happening. We're all safe."

Bono concluded the conversation with Fanning saying, "We wanted our Irish audience to know that we are very excited to be coming home. And WOW are we excited about coming home, especially after this. It's been a year away, nearly a year away. It's been an extraordinary year of all kinds of tragedy and ups and downs, and yet this is – and I know there's people who don't believe that even a corner of interest in our band – this is it. This is us. This is what we've always wanted to be. We can't wait to take it home."

Posted: January 15, 2015


We've had a few questions come in about legitimate places to buy, sell or trade U2 concert tickets with other fans, so consider this a Public Service Announcement aimed at answering a question that may be on a lot of fans' minds.
Officially, there are still some tickets for certain shows available via official ticket outlets (i.e., Ticketmaster in North America). The tour page on U2.com appears to be pretty up-to-date about which shows still have tickets available.
Beyond that, we also have a dedicated board in our forum for fans to buy, sell and trade tickets directly with other fans and only at face value. All of the existing shows are listed individually, so just find the show(s) you're interested in and add your post or see what others have already posted. Selling or trading GA tickets may be difficult due to the paperless ticket requirements, so keep that in mind as you offer those tickets or search for them.
And be sure, if you do use this section of our forum, to read the post at the top of the board -- "Rules for Ticket Buying/Selling/Trading." We don't hesitate to boot people that try to make a profit from selling tickets in our forum.