Bits & Bytes
A collection of the latest U2 news and announcements posted by our staff.
Posted: August 30, 2016



Over the weekend, Bono met Nigerian tycoon Aliko Dangote, Africa's richest man, to help 2.3 million displaced people in Borno. They visited a camp in Nigeria's northeast region to call the world's attention for the humanitarian crisis caused by war with Boko Haram. Bono and Dangote gave an interview to BBC showing what's going on there and how the aid is so important and yet it hasn't been enough. You can watch it here.

Bono also visited with Nigeria's Vice President, Yemi Osinbajo, to discuss a global partnership through international advocacy.

But what we can do to help? First, you can join #MakeNaijaStronger by signing ONE Campaign's petition. It demands government's investments in lifesaving funds. By taking action we can save millions of lives, especially marginalized girls and women.

You can also support UNHCR - The United Nations Refugee Agency - sending a message to the world leaders that they must work together and do their share for refugees. Join Bono and ONE to help UNHCR to reach 1 million signatures by signing #WithRefugees petition.

"There are 50,000 children who are going to die if the UN doesn't get what they need. This is an extraordinary country, but you can see the people in the north-east struggling - they've had their country stolen from them," Bono said. "This is our next door neighbor and if their house catches on fire, our house catches on fire, it's just that simple."

Photo credit: Roopa Gogineni (ONE)

Posted: August 26, 2016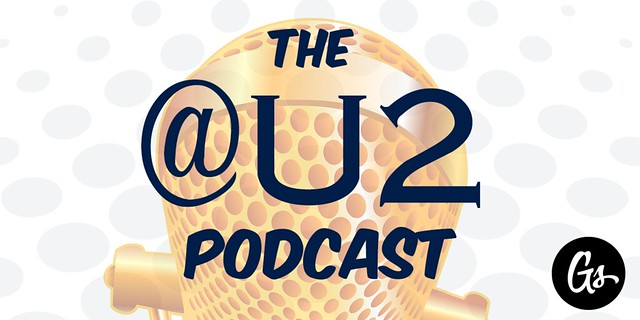 Our #U240 podcast series continues this week with a discussion of U2's fourth album, Under A Blood Red Sky. Sherry Lawrence and Kenny Irwin join host Chris Enns this week for a track-by-track review of what was also the band's first live album. They also talk about the recent U2/Kygo collaboration and answer a few #askatu2 questions.
This week's show runs 80 minutes. If you've subscribed to the podcast via iTunes or your favorite RSS reader, you'll get the download automatically. You can also listen on the web:
@U2 Podcast #38 - It's All About Bono's T-Shirt - (Under a Blood Red Sky)
We have a couple hashtags you can use to contribute to the podcast going forward:
#askatu2 -- if you have a response to something you hear on the podcast, or just want to ask a question or suggest future topics
#atu2podcast -- send a photo of yourself listening to the podcast
Thanks again for listening!
Posted: August 25, 2016



The October issue of Guitar World features The Edge on the cover. In the interview, the guitarist talks about the evolution of his work during U2's 40-year career and his first signature guitar and amp, The Edge Signature Fender Stratocaster and The Edge Signature Deluxe Amplifier.

"I'm so proud of these two pieces," he said. "Each design presents something very unique and updates the original item in some cool ways. Let's put it this way: I know I'll be using them quite a bit."

About his Signature Guitar, The Edge said, "Fender remade some pieces that were totally amazing. Having tried the guitar, I just realized this is a great instrument and I'd be very proud to put my name on it. When something is good, you just have to share it."

The Edge also talked about his early influences, the different models and his first guitars. You can check out a portion of this interview here.
Posted: August 24, 2016



You've probably wondered what it looked like back in September, 1976, when the boys that would go on to become U2 first gathered in a kitchen in Larry Mullen Jr.'s Dublin home. There are no known photos of the gathering, so the U2 fan's mind is left to dream up a visual to accompany the story of that first meeting. Now you can skip the dreaming and color it yourself!

@U2's Kelly Eddington is back with her second set of U2 coloring book sheets, and this group of 29 images follows the #U240 theme with hand-drawn images that span all 40 years of U2. It starts with that 1976 meeting in the kitchen and goes all the way through the I+E tour. Grab your crayons or coloring pencils/markers, download the new set of coloring book sheets and then share your creations with us on social media! You'll find Kelly's preview and the download link in the new Achtoon Baby:

Posted: August 21, 2016


The weekend of September 24-25 is getting closer and we have some news to pass along about #U240Cleveland and #U240Dublin, the two events we're putting on to celebrate U2's 40th anniversary.
#U240Cleveland
The Rock & Roll Hall of Fame has confirmed that tickets will cost $40 (how appropriate!) for the two-day event on Saturday, Sept. 24 and Sunday, Sept. 25. The regular single-day entry price for the Hall is $23.50, so that's a 15% discount for U2 fans. The Hall also tells us that tickets should be available to buy through RockHall.com by the end of this week, and we'll post a link when that's ready for you.
As part of the admission price, you'll have access to the Hall's regular (and excellent) exhibits, many of which feature U2-related artifacts. There'll also be a big anniversary cake and a card for everyone to sign that will be sent to the band. We're still working with the Rock Hall to confirm all of the other plans for the weekend, and it may take a few more weeks, but here's an idea of what we collectively have in mind:
a film festival featuring several of U2's films and home video releases in the Rock Hall's state-of-the-art Foster Theater
panel discussions/interviews (potentially involving special guests) discussing U2's 40-year career, their music and impact, and more
an educational presentation highlighting U2's message and role in the Hall's existing Louder Than Words exhibit
a special exhibit featuring the U2 Tattoo Project (this one is already confirmed!)
more?
In addition, @U2 is organizing a separate event for U2 fans on Saturday night (Sept. 24). Sometime in the next couple days, we should have everything signed and paid for to confirm that we're renting out a movie theater in downtown Cleveland to show Rattle And Hum on the big screen! This will be a separately ticketed event -- not included in the Rock Hall admission price -- and we'll announce the ticket price (probably $10-$20) and how to buy tickets as soon as we can.

For all of the latest on this event, keep an eye on our #U240Cleveland event page.

#U240Dublin

Our Dublin party has long since sold out, but we also have some news to pass along for fans attending this event on Saturday, Sept. 24: The Joshua Tree is inviting fans to help choose the setlist for their performance! They've given us a list of 15 songs that U2 rarely plays in concert, and they've agreed to play the top four vote-getters. You can see that list of songs and cast your votes on our #U240Dublin event page.

We'll share new information about both events as soon as we can, so stay tuned to our home page and our social media accounts for the latest news. We can't wait to see you all in Dublin and Cleveland!

Posted: August 20, 2016



Kygo, a Norwegian DJ and producer, debuted "The Best Thing" -- a new collaboration with U2 at the Cloud Nine festival in his hometown of Bergen, Norway.

According to VG.no, Kygo's manager has confirmed that it's a collaboration between U2 and Kygo. A good video of what we think is the full song (or close to it) is below, and you may recognize it as one of the recent "beach clips" that Bono was playing loudly at his home in the south of France. There are numerous other recordings and clips of the song on YouTube, Twitter, Instagram and elsewhere.

(Tip via U2songs.com.)

UPDATE: Online videos of the performance are being removed.

Posted: July 25, 2016



Couldn't get tickets to our #U240Dublin event? Or maybe it's just too far away? Well, as promised, we're putting on a second event that will be closer to home for many of you.

@U2 is proud to partner with the Rock & Roll Hall of Fame for #U240Cleveland, a two-day celebration of U2's 40th anniversary that will take place on September 24-25, 2016.

We're working with the Rock Hall right now to schedule two full days of fun on Saturday and Sunday, but we don't have a ton of details to share at the moment. We're expecting the event to run from 10:00 am to 5:30 pm on both days, and there may be a Saturday evening element, too. The Rock Hall will be selling tickets, and we're working with them now to determine the best price. We'll share ticket information as soon as possible.

There are a number of quality hotels within walking distance of the Rock Hall. Our crew has found good rates at the DoubleTree (Cleveland Downtown-Lakeside), especially if you join (or are already a member of) the Hilton HHonors program. The DoubleTree also has a free shuttle that covers the downtown area. There's a Westin, Marriott and a Hilton nearby, along with several other hotels. If you're planning to join us, we recommend booking soon.

To be frank, we normally wouldn't announce an @U2 event with so few details to share. We've debated for the past several days, When should we announce this? Do we have enough information yet? But with the #U240 weekend just two months away, we wanted to tell you as much as we can now so you can start making travel plans. It'll be a really fun event. Many of our North American staffers will be there for the full weekend, and we hope to see many of our readers, too.
Posted: July 22, 2016


If you're planning to be at our #U240Dublin event, you already know about the sold-out party, live music and fun we've arranged for Saturday night, September 24th. But what about the rest of the weekend, right? Well, how would you like a guided tour of some of the most important U2-related sites in Dublin?

@U2 has connected with U2 fan and Dubliner Dave Griffith -- who's been doing walking tours of important U2 sites in Dublin for years now -- and he's agreed to offer four tours during the course of that weekend:

Saturday, Sept. 24: 10:30 a.m. and 2:30 p.m.
Sunday, Sept. 25: 11:00 a.m. and 3:00 p.m.

Dave has agreed to offer a special #U240Dublin/@U2 price of €10 per person, which is a few euros less than his normal rate. Space is limited (so that everyone can hear what he's saying and so that no one gets lost) and you must reserve a spot in advance. You can do that by emailing Dave at u2tours...@...gmail.com (without the ellipses) or calling him direct. The phone number is listed on his Facebook page -- hover over the "Call Now" button to see it. BTW, if you call, be sure to check the current time in Dublin.

Each tour will hit the same spots, so you only need to sign up for one. A tour lasts about two hours and, since you'll be walking, be sure to wear comfortable shoes. Once you've booked a spot, Dave will tell you where to meet and you can pay him in person at that time.

Posted: July 14, 2016



7/19 UPDATE: SOLD OUT!!! THANK YOU TO EVERYONE FOR BUYING TICKETS AND SUPPORTING THIS EVENT!
@U2 has been throwing parties for U2 fans for more than a decade now, but we've never done one in Europe. That's going to change in a couple months as we celebrate U2's 40th anniversary in the band's hometown of Dublin!
You're formally invited to #U240Dublin, a fun night of live music, trivia and more happening September 24th at The Grand Social. We'll have two special musical guests: Dublin's own U2 tribute band, The Joshua Tree, will be the main entertainment for the night, and Scotland-based December will provide a special opening set. (You might recall their U2 tribute song, "Alison Stewart," from last year.)
The fun begins at 7:00 pm sharp on September 24th and tickets are on sale now for €14.50 via Tickets.ie.
7/19 UPDATE: SOLD OUT!!! THANK YOU TO EVERYONE FOR BUYING TICKETS AND SUPPORTING THIS EVENT!
To recap, here's what you need to know:
What: #U240Dublin, celebrating U2's 40th anniversary as a band
When: Saturday, September 24, 2016
Time: 7:00 pm
Where: The Grand Social, 35 Lower Liffey St., Dublin 1
Cost: €14.50
Food/Drink: Available for purchase from the venue