Bits & Bytes
A collection of the latest U2 news and announcements posted by our staff.

Posted: January 21, 2017



Among the many celebrities who took to the streets today for Women's March Los Angeles was none other than The Edge. Not only was he spotted walking amongst the crowds with wife, Morleigh, but he also strapped on his guitar for a live performance of U2's hit, "Pride." It happened on a temporary stage at 6th and Broadway in downtown L.A. (uber-fan note: just a couple blocks from 7th and Main, site of the "Where The Streets Have No Name" video shoot in 1987), and we've figured out that Edge performed with Juliette Lewis on vocals and Abby Travis on bass.

We'll add any additional information we get to the concert page on @U2 Tours. In the meantime, here's a brief Instagram video of the performance.
Posted: January 20, 2017



Larry Mullen Jr. made a rare solo appearance tonight to pick up a Lifetime Achievement Award from Yamaha and play a few of U2's greatest hits during a gala event at the National Association of Music Merchants (NAMM) conference in Anaheim, California.

From what we've found via Twitter and Instagram clips, Mullen took the stage along with musicians Nathan East, Butch Walker, Randy Brecker (and others) and performed, at minimum, "I Still Haven't Found What I'm Looking For," "Angel Of Harlem," "Pride" and "Desire." It's possible additional songs were played.

Mullen is a longtime user of Yamaha drum gear. U2 teased the event this afternoon by posting a photo of Larry and other artists rehearsing for the show.

Posted: January 19, 2017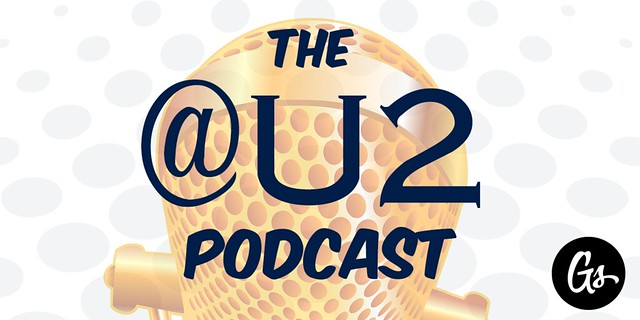 It's not just U2 itself that's looking back at an old album from the band's past. That's what we've been doing for a few months now with our #U240 album-by-album podcast series! We continue this week with a conversation about U2's 2004 release, How To Dismantle An Atomic Bomb. Jill Marino, Becky Myers, Ian Ryan and host Chris Enns talk about the album as a whole and review each song individually. This episode runs 81 minutes.
If you've subscribed to the podcast via iTunes or your favorite RSS reader, you'll get the download automatically. You can also listen on the web:
@U2 Podcast #48: Butterflies Out Of Its Mouth (A Discussion of How To Dismantle An Atomic Bomb)
We have a couple hashtags you can use to contribute to the podcast going forward:
#askatu2 -- if you have a response to something you hear on the podcast, or just want to ask a question or suggest future topics
#atu2podcast -- send a photo of yourself listening to the podcast
Thanks again for listening!

Posted: January 18, 2017


According to Live Nation, over 1.1 million tickets for The Joshua Tree tour 2017 were sold in a single day. This is one of the most popular and fastest-selling tours in history.
Due to huge demand, U2 announced more dates for Europe and North America. Fan club presale for those new dates is open now and runs until Friday. The ticket sale for the general public will happen on Monday, Jan. 23.
If you couldn't get a ticket, you should read our article posted earlier this week. It has a lot of tips about what you need to do to find a ticket. Don't give up.
Posted: January 17, 2017



U2 announced three additional shows to The Joshua Tree Tour 2017's North American itinerary:

Sun. May 21: Los Angeles, CA at Rose Bowl
Sun. June 4: Chicago, IL at Soldier Field
Thurs. June 29: E. Rutherford, NJ at MetLife Stadium

The dates are listed as "second and final" for these cities. Tickets will go on sale to the general public next Mon., Jan. 23. U2.com members with unused codes will be eligible for a presale. All information on that will be emailed to U2.com members and will be available on U2.com.
Posted: January 16, 2017



U2's European dates for The Joshua Tree Tour 2017 sold out in minutes, prompting the band to add more dates to the tour. In an official statement on U2.com, the dates added are:

Sun. 9 July: London, UK at Twickenham Stadium
Sun. 16 July: Rome, IT at Olympic Stadium
Wed. 26 July: Paris, FR at Stade De France
Sun. 30 July: Amsterdam, NE at Amsterdam Arena

Fan club presales will begin later this week, and the general ticket sale will happen Monday, Jan. 23.

UPDATE: The list above appears to be the only new shows that will be added in Europe. An e-mail from U2.com that's going out today begins with this (emphasis ours): "Four more shows have been added to complete the dates on the European leg of The Joshua Tree Tour 2017." The use of "complete" suggests that no more shows will be added. Although rumors have circulated for a while that a second Dublin show would be added, both Hot Press and the Irish Times are reporting that's not the case. "Speculation as to whether U2 will play a second Croke Park show has been ended with the band issuing a definitive 'No' through their Irish PR company," Hot Press reports.

Posted: January 15, 2017



With excitement building for the upcoming 30th anniversary tour, we think it may be fun to share stories from readers who have made the pilgrimage to the site of the original Joshua Tree. Members of our @U2 staff made the journey together in 2009 and considered it a sacred experience.

If you've been there, and would like your story to be considered for publication, here are the guidelines for entry:
The story has to center on your visit to the Joshua tree that was used in the famous U2 photo shoot. Not a Joshua tree, The Joshua Tree.
With your story, submit your first and last name. We won't accept anonymous entries or entries only with Twitter handles (though if your piece is chosen, we're happy to link to your handle if you include it as well).
Share your own experiences, not your friend's or something you've read about. Essays should be written in first-person voice or if you submit a video, it should be you (or your artwork) representing your own memories. Also, a lot of people might see your work if we post it on @U2, so please keep that in mind if you're sharing personal information.
All written submissions are subject to our editing process, which may include modifications for spelling, grammar and/or length.
All videos must be high-quality; we cannot accept videos with music that violates copyright laws or has inappropriate language, images, etc.
Since we don't know how many responses we'll get, we can't promise to publish them all. You can improve your chances by being personal and brief (250 words or less is best for written work; videos should be a maximum of 2 minutes long).
High-resolution photos are encouraged to accompany any written entries.
Preferred file formats: For written works, RTF or Word documents; for videos, mp4.
Ready to share? Send your entries to: u2jtstories@gmail.com.

We look forward to hearing from you!

Posted: January 15, 2017


Adam and The Edge talk at length about U2's progress on Songs Of Experience in the March 2017 issue of Q magazine that just hit newsstands. It's the magazine's 2017 preview issue with The xx on the cover.
It's not clear when Q did the interviews with Adam and Edge. Both were on hand for the Q Awards on November 2, but the interview makes specific mentions about "shifting sands" and the US election. That happened on November 8, suggesting the interview happened sometime after that date. What's also odd is that the article makes no mention of plans for The Joshua Tree Tour 2017, suggesting that perhaps this tour really is a last-minute idea that just started coming together. (In his Q&A with U2.com last week, Bono describes the tour as "a recent idea.")
Anyway, though the article may be somewhat outdated by now, there are a couple interesting quotes. Whenever the interviews happened, U2 was working on whittling down about 18 songs to the 10-12 that will be on Songs Of Experience. "The ordeal is getting all four members to agree on the same dozen songs," Edge tells Q. Adam goes on to say that the band had changed its mind about a spring release and would "probably hold [the album] back until later in the year."
Both Adam and Edge talk about the band rethinking its plans after the US election and other changes happening around the world (Q mentions Brexit). That's where Adam refers to "shifting sands" and admits, "perhaps the US election has created some uncertainty." When asked if those events were like a "Bat Signal" to respond via music, Edge says this:
"I don't know if we feel a responsibility so much. Just that there are these moments where you just feel like, 'Wow, someone's got to write a great song about this and hopefully it will be us, so let's have a go.'"
The article also mentions four new songs -- "Civilization," "The Little Things That Give You Away," "Instrument Flying" and "Much More Better" -- all of which are already listed on our New Album tracker page.
Posted: January 13, 2017


@U2 readers, we need your help. As 2017 begins, our staff is in deep discussions about the future of this website and how to serve you better with U2-related content. (I wrote a bit about this in a recent OTR column.)

You can help by spending about 10 minutes, maybe less, taking a survey that we've written specifically for @U2 readers/listeners. This isn't like the big worldwide fan survey we did last year asking for your favorite album, song and so forth. This is just 20 questions about you, how you use our website and how we can improve. We don't want you to hold anything back; praise is welcome, but thoughtful, constructive criticism will help us get better.

Ready to help? Here's the survey link: http://atu2com2017.questionpro.com

We'll leave this open for a couple weeks. Thanks in advance for your candid feedback and ideas. We can't wait to hear from you!

Posted: January 10, 2017


If this year, or at least part of it, is supposed to be about celebrating the 30th anniversary of The Joshua Tree, it looks like the party has already begun.
The album has climbed up the iTunes Music Store album charts in recent days, perhaps powered by both the band's Joshua Tree Tour 2017 announcement and the fact that iTunes is selling the album for only $5.99. One of our staffers noticed the album moving up the iTunes rankings on Monday, and it's still there today. In fact, it's there twice. As of about 2:00 PM PT, the main album (2007 remastered version) was No. 11 on the overall album chart and the Deluxe Edition (also from 2007) was No. 22. That Deluxe Edition is currently being sold for $9.99.
If you look just at the Rock category on the albums chart, the album was at No. 3 overall and the Deluxe Edition at No. 5. The image above shows the overall album chart rankings, and below is a screenshot just of the Rock category.
UPDATE, January 20: It's ten days since we published this news about The Joshua Tree reappearing on the iTunes album sales charts, and now comes a report from Hot Press magazine that the album has re-entered the Irish album charts at No. 3.