Bits & Bytes
A collection of the latest U2 news and announcements posted by our staff.

Posted: January 18, 2017


According to Live Nation, over 1.1 million tickets for The Joshua Tree tour 2017 were sold in a single day. This is one of the most popular and fastest-selling tours in history.
Due to huge demand, U2 announced more dates for Europe and North America. Fan club presale for those new dates is open now and runs until Friday. The ticket sale for the general public will happen on Monday, Jan. 23.
If you couldn't get a ticket, you should read our article posted earlier this week. It has a lot of tips about what you need to do to find a ticket. Don't give up.
Posted: January 17, 2017



U2 announced three additional shows to The Joshua Tree Tour 2017's North American itinerary:

Sun. May 21: Los Angeles, CA at Rose Bowl
Sun. June 4: Chicago, IL at Soldier Field
Thurs. June 29: E. Rutherford, NJ at MetLife Stadium

The dates are listed as "second and final" for these cities. Tickets will go on sale to the general public next Mon., Jan. 23. U2.com members with unused codes will be eligible for a presale. All information on that will be emailed to U2.com members and will be available on U2.com.
Posted: January 16, 2017



U2's European dates for The Joshua Tree Tour 2017 sold out in minutes, prompting the band to add more dates to the tour. In an official statement on U2.com, the dates added are:

Sun. 9 July: London, UK at Twickenham Stadium
Sun. 16 July: Rome, IT at Olympic Stadium
Wed. 26 July: Paris, FR at Stade De France
Sun. 30 July: Amsterdam, NE at Amsterdam Arena

Fan club presales will begin later this week, and the general ticket sale will happen Monday, Jan. 23.

UPDATE: The list above appears to be the only new shows that will be added in Europe. An e-mail from U2.com that's going out today begins with this (emphasis ours): "Four more shows have been added to complete the dates on the European leg of The Joshua Tree Tour 2017." The use of "complete" suggests that no more shows will be added. Although rumors have circulated for a while that a second Dublin show would be added, both Hot Press and the Irish Times are reporting that's not the case. "Speculation as to whether U2 will play a second Croke Park show has been ended with the band issuing a definitive 'No' through their Irish PR company," Hot Press reports.

Posted: January 15, 2017



With excitement building for the upcoming 30th anniversary tour, we think it may be fun to share stories from readers who have made the pilgrimage to the site of the original Joshua Tree. Members of our @U2 staff made the journey together in 2009 and considered it a sacred experience.

If you've been there, and would like your story to be considered for publication, here are the guidelines for entry:
The story has to center on your visit to the Joshua tree that was used in the famous U2 photo shoot. Not a Joshua tree, The Joshua Tree.
With your story, submit your first and last name. We won't accept anonymous entries or entries only with Twitter handles (though if your piece is chosen, we're happy to link to your handle if you include it as well).
Share your own experiences, not your friend's or something you've read about. Essays should be written in first-person voice or if you submit a video, it should be you (or your artwork) representing your own memories. Also, a lot of people might see your work if we post it on @U2, so please keep that in mind if you're sharing personal information.
All written submissions are subject to our editing process, which may include modifications for spelling, grammar and/or length.
All videos must be high-quality; we cannot accept videos with music that violates copyright laws or has inappropriate language, images, etc.
Since we don't know how many responses we'll get, we can't promise to publish them all. You can improve your chances by being personal and brief (250 words or less is best for written work; videos should be a maximum of 2 minutes long).
High-resolution photos are encouraged to accompany any written entries.
Preferred file formats: For written works, RTF or Word documents; for videos, mp4.
Ready to share? Send your entries to: u2jtstories@gmail.com.

We look forward to hearing from you!

Posted: January 15, 2017


Adam and The Edge talk at length about U2's progress on Songs Of Experience in the March 2017 issue of Q magazine that just hit newsstands. It's the magazine's 2017 preview issue with The xx on the cover.
It's not clear when Q did the interviews with Adam and Edge. Both were on hand for the Q Awards on November 2, but the interview makes specific mentions about "shifting sands" and the US election. That happened on November 8, suggesting the interview happened sometime after that date. What's also odd is that the article makes no mention of plans for The Joshua Tree Tour 2017, suggesting that perhaps this tour really is a last-minute idea that just started coming together. (In his Q&A with U2.com last week, Bono describes the tour as "a recent idea.")
Anyway, though the article may be somewhat outdated by now, there are a couple interesting quotes. Whenever the interviews happened, U2 was working on whittling down about 18 songs to the 10-12 that will be on Songs Of Experience. "The ordeal is getting all four members to agree on the same dozen songs," Edge tells Q. Adam goes on to say that the band had changed its mind about a spring release and would "probably hold [the album] back until later in the year."
Both Adam and Edge talk about the band rethinking its plans after the US election and other changes happening around the world (Q mentions Brexit). That's where Adam refers to "shifting sands" and admits, "perhaps the US election has created some uncertainty." When asked if those events were like a "Bat Signal" to respond via music, Edge says this:
"I don't know if we feel a responsibility so much. Just that there are these moments where you just feel like, 'Wow, someone's got to write a great song about this and hopefully it will be us, so let's have a go.'"
The article also mentions four new songs -- "Civilization," "The Little Things That Give You Away," "Instrument Flying" and "Much More Better" -- all of which are already listed on our New Album tracker page.
Posted: January 13, 2017


@U2 readers, we need your help. As 2017 begins, our staff is in deep discussions about the future of this website and how to serve you better with U2-related content. (I wrote a bit about this in a recent OTR column.)

You can help by spending about 10 minutes, maybe less, taking a survey that we've written specifically for @U2 readers/listeners. This isn't like the big worldwide fan survey we did last year asking for your favorite album, song and so forth. This is just 20 questions about you, how you use our website and how we can improve. We don't want you to hold anything back; praise is welcome, but thoughtful, constructive criticism will help us get better.

Ready to help? Here's the survey link: http://atu2com2017.questionpro.com

We'll leave this open for a couple weeks. Thanks in advance for your candid feedback and ideas. We can't wait to hear from you!

Posted: January 10, 2017


If this year, or at least part of it, is supposed to be about celebrating the 30th anniversary of The Joshua Tree, it looks like the party has already begun.
The album has climbed up the iTunes Music Store album charts in recent days, perhaps powered by both the band's Joshua Tree Tour 2017 announcement and the fact that iTunes is selling the album for only $5.99. One of our staffers noticed the album moving up the iTunes rankings on Monday, and it's still there today. In fact, it's there twice. As of about 2:00 PM PT, the main album (2007 remastered version) was No. 11 on the overall album chart and the Deluxe Edition (also from 2007) was No. 22. That Deluxe Edition is currently being sold for $9.99.
If you look just at the Rock category on the albums chart, the album was at No. 3 overall and the Deluxe Edition at No. 5. The image above shows the overall album chart rankings, and below is a screenshot just of the Rock category.
Posted: January 09, 2017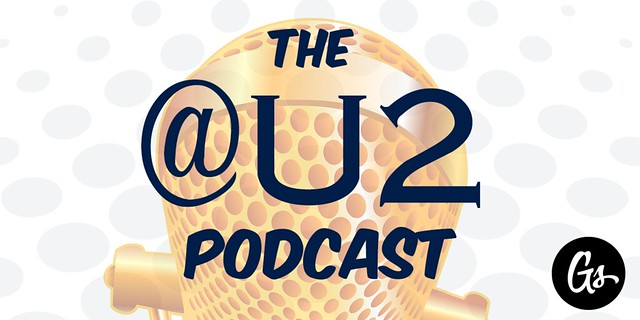 A special occasion like U2 announcing new tour dates calls for a special edition of the @U2 podcast. Today, a few of our crew got together for a quick chat about the announcement of The Joshua Tree Tour 2017 covering topics like the possible setlist, ticket options and how popular this tour might be among casual U2/music fans.

We're calling this a "B-side" and we plan to do more special, unexpected, news-oriented podcasts in addition to our regular episodes that come out every couple weeks. This first "B-side" runs just 17 minutes and you can listen online:

B-Side #1: U2 Announces Joshua Tree Tour 2017

Posted: January 09, 2017


U2 announced The Joshua Tree Tour 2017 today, but many fans are asking about the status of Songs of Experience. The Edge said to Rolling Stone magazine that the album is "almost done," but they want some time to think about it and, possibly, make a few changes if necessary due to all that occurred in the world recently.

"We may even write a couple of new songs because that's the very position we're in," he revealed. "We've given ourselves a little bit of breathing space for creativity."

About the Innocence + Experience tour, The Edge said it'll probably continue with very similar production components. "We like that tour and that project wasn't completed. It is still alive in our minds creatively."

Finally, he was asked about how the new album would be distributed. Edge joked: "My plan is that Bono and I would sneak into everyone's house and put a CD under their pillow [laughs]. But unfortunately, that doesn't seem to be getting much support from the rest of the band." He also talked about aspects of the future of music and the relationship between digital and vinyl records.

Posted: January 09, 2017


It's true. U2 is hitting the road later this year to celebrate The Joshua Tree, an album that turns 30 years old in March. The band has just posted the full set of concert dates for The Joshua Tree Tour 2017, a trek that initially involves 24 shows over nearly 12 weeks in North America and Europe.

In the announcement, and in the band's tweet, U2 says they'll be performing the album in full at every concert. That means fans will hear "Red Hill Mining Town" live for the first time, as well as rarities like "Mothers Of The Disappeared" (only played 16 times), "One Tree Hill" (only played 44 times) and "Trip Through Your Wires" (only played 86 times, and none since 1987). You can see the full set of Joshua Tree songs and how many times each has been played on @U2 Tours. In a new interview with Rolling Stone, The Edge says "we will be playing the album in sequence," but he says the shows may not begin with "Where The Streets Have No Name."

It begins May 12 at BC Place Stadium in Vancouver, BC, Canada, and wraps up August 1 at King Baudouin Stadium in Brussels. U2 will also make its first appearance at the Bonnaroo festival in Tennessee, which runs June 8-11 this year. Formal details on that performance should be announced on Wednesday (January 11).

It's possible that additional shows will be added in some cities, perhaps based on ticket demand for this first batch of shows. On that subject, tickets will go on sale to the public beginning Monday, January 16 in Europe and Tuesday, January 17 in North America. Paid U2.com members will have access to ticket presales that start this Wednesday, January 11, and end this Friday, January 13. The official announcement doesn't say anything about ticket prices. It does say that all floor tickets will be general admission, and North American shows will be paperless ticketing for those GA floor spots "unless otherwise noted." (UPDATE: It looks like ticket prices in North America are ranging from about $35 to $280 USD/CAD, and in Europe from about $38EU to $190EU.)

As has been reported here since early last week, the tour will play exclusively in stadiums. Unlike the Innocence + Experience tour in 2015, U2 will bring an opening act on the road with them this time out. The Lumineers, Mumford & Sons and One Republic will be the support acts in North America, while Noel Gallagher's band, High Flying Birds, will open in Europe.

Here's the full set of shows announced so far on The Joshua Tree Tour 2017:

The Joshua Tree Tour 2017 North America

Fri. May 12: Vancouver, BC at BC Place Stadium
Sun. May 14: Seattle, WA at CenturyLink Field
Wed. May 17: San Francisco, CA at Levi's Stadium
Sat. May 20: Los Angeles, CA at Rose Bowl
Wed. May 24: Houston, TX at NRG Stadium
Fri. May 26: Dallas, TX at AT&T Stadium
Sat. June 3: Chicago, IL at Soldier Field
Wed. June 7: Pittsburgh, PA at Heinz Field
Sun. June 11: Miami, FL at Hard Rock Stadium
Wed. June 14: Tampa, FL at Raymond James Stadium
Sun. June 18: Philadelphia, PA at Lincoln Financial Field
Tue. June 20: Washington, DC at FedEx Field
Fri. June 23: Toronto, ON at Rogers Centre
Sun. June 25: Boston, MA at Gillette Stadium
Wed. June 28: E. Rutherford, NJ at MetLife Stadium
Sat. July 1: Cleveland, OH at First Energy Stadium

The Joshua Tree Tour 2017 Europe

Sat. 8 July: London, UK at Twickenham Stadium
Wed. 12 July: Berlin, DE at Olympic Stadium
Sat. 15 July: Rome, IT at Olympic Stadium
Tue. 18 July: Barcelona, ES at Olympic Stadium
Sat. 22 July: Dublin, IE at Croke Park
Tue. 25 July: Paris, FR at Stade De France
Sat. 29 July: Amsterdam, NE at Amsterdam Arena
Tue. 1 Aug.: Brussels, BE at King Baudouin Stadium

It's the first time in U2's history that they'll go on tour to celebrate/promote a previously released album. The Edge tells Rolling Stone that the decision to revisit the nearly-finished Songs Of Experience and Joshua Tree at the same time was prompted by the political changes that happened in 2016.

"It's like a pendulum has suddenly just taken a huge swing in the other direction. So, anyway, we then were looking at the anniversary of The Joshua Tree, and another thing started to dawn on us, which is that weirdly enough, things have kind of come full circle, if you want. That record was written in the mid-Eighties, during the Reagan-Thatcher era of British and U.S. politics. It was a period when there was a lot of unrest. Thatcher was in the throes of trying to put down the miners' strike; there was all kinds of shenanigans going on in Central America. It feels like we're right back there in a way."

The Joshua Tree was released on March 9, 1987. It immediately became U2's most critically and commercial successful album, with current sales estimated at more than 25 million copies. "With Or Without You" and "I Still Haven't Found What I'm Looking For" -- the first two singles from the album -- became U2's first No. 1 singles in the U.S. The album went on to pick up Grammy Awards for Album Of The Year and Best Rock Performance By A Duo Or Group With Vocal. In 2014, it was added to the Library of Congress National Recording Registry -- a collection of recordings that are considered "culturally, historically or aesthetically significant."

As part of our own #U240 podcast series celebrating the band's 40 years together, we recently dedicated an episode to The Joshua Tree. You can listen to that show online if you missed it the first time around.

Posted: January 07, 2017


A new promotional graphic, shown above, for U2's (still unannounced) May 20 concert at the Rose Bowl in Pasadena reveals two things that haven't been confirmed yet:
The opening act, at least for this show, will be The Lumineers. Their name, along with Mumford & Sons, has been previously linked in rumors about U2's North American tour.
The tour itself is being called The Joshua Tree Tour 2017.
The graphic also features a recent photo of U2 in poses similar to the original Joshua Tree album cover from 1987; we're not sure where this new photo was taken, but I'm betting one of you reading this will tell us soon enough. Other than that, the image confirms the previous rumors that we wrote about several days ago such as the date and venue of this Los Angeles-area show, as well as a January 17 public on-sale date for tickets. We received this image via the same source that has previously tipped us to information about this Joshua Tree 30th anniversary tour.

As we reported last week, the full tour announcement is expected sometime Monday (January 9). As always, until that official announcement, all of the information you're reading here and elsewhere online should be considered rumors.

Posted: January 06, 2017


Following up on our report earlier this week, a reliable source has shared additional info with @U2 about U2's plans to tour in support of The Joshua Tree's 30th anniversary this year.

We're told that the tour will play exclusively in stadiums and will begin May 12th in Vancouver, BC, Canada. Additional cities on the band's itinerary are rumored to include Seattle, San Francisco, Los Angeles (Pasadena), Philadelphia, Boston, New York City (NJ, to be precise) and Washington, DC. We don't know what other North America cities, if any, are getting shows. We don't know if there'll be one show or two in any/all cities, but our previous report suggested a pair of shows in Pasadena.

This info is coming from the same source we quoted earlier in the week, a source that correctly tipped us four times before and during the Innocence + Experience tour.

We've also begun to hear rumblings related to European shows in support of The Joshua Tree's anniversary, and will pass those along when we get more concrete information. There are plenty of rumors already online related to Europe and this tour, in general, and you can check out U2songs.com's rumor collection page for more.

We wouldn't be surprised to get additional information later today and over the weekend, and will update this story (or add new stories) as we learn more. As far as we know, our previous report that the formal announcement will happen this Monday, January 9, is still accurate, but with dates and cities leaking out, it could be moved up.

Posted: January 03, 2017


It's been almost four years since we've put up a Help Wanted sign, but with all signs pointing to a busy year for U2, we've decided the time is right to bring new U2 fans on board the @U2 team.
Here's the cool thing about what we're doing this year: We're relying on you to tell us what job/position you want to bring to @U2 and our audience around the world. Whether you're a writer, coder/developer, graphic designer, social media enthusiast, video editor or just about anything else, we're interested in hearing from you! (We're also looking to fill two specific roles: Forum Moderator and Android Developer.)
We don't do this often, so don't miss the opportunity while it's available. To learn more about what we're looking for, see our dedicated page:
We'll leave that page online for a couple weeks -- we'd like to hear from interested U2 fans by January 20!