Bits & Bytes
A collection of the latest U2 news and announcements posted by our staff.

Posted: October 02, 2015



Here at @U2, one of the things we're most proud of is the original content we provide, created exclusively by our staff. In case you missed any of it in September, the highlights are posted below:

In our weekly Off the Record column, Matt McGee shared where you can reach us now (via our podcast and live video chats). The following week, Liseth Meijer described what it was like seeing U2 in a small venue for the first time. Later in the month, Ian Ryan documented how much better U2 has become at social media on this tour. Following that, Scott Calhoun provided his predictions for U2 in the future.

The next "U2 Lists" entry in our series came from Tassoula E. Kokkoris, who spoke of the intoxicating highs of being smitten with a new man in her Top 10 U2 Songs for Falling in Love.

Kelly Eddington delivered her (hilarious) summer edition of Achtoon Baby, "Things You Probably Haven't Read About the Tour Yet."

Tassoula E. Kokkoris examined the significance of one of the thrown U2 I+E books in her article "U2 and the Seduction of The Screwtape Letters."

We also released more podcasts in our weekly series:

To leave feedback on any of these @U2 originals, please visit our forum.

Posted: October 01, 2015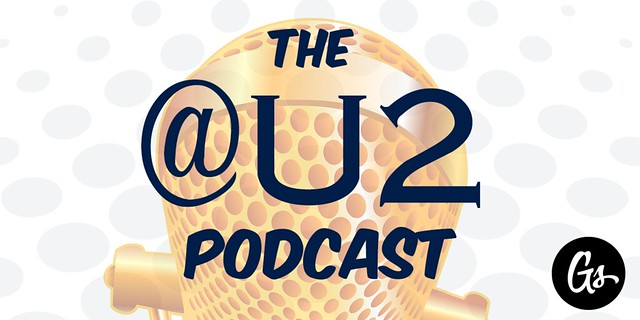 Episode 12 of the @U2 podcast is now available and features host Chris Enns chatting with Sherry Lawrence, Jill Marino and Becky Myers about the recent Berlin concerts, the Global Citizen Festival and answering a batch of #askatu2 questions.
This week's episode runs 63 minutes. If you've subscribed to the podcast via iTunes or your favorite RSS reader, you'll get the download automatically. Or you can listen on the web:
@U2 Podcast #12: The Miracle of the 5-Percent Battery
A couple reminders:
If you enjoy the podcasts, please rate us on iTunes -- this will tell Apple that we're doing a good job and they'll be more likely to give the podcast extra visibility. In other words, your positive rating will help other U2 fans find us. (You actually have to go into the iTunes software to leave a rating, can't do it via that web page.)
If you have a response to something you hear on the podcast, or just want to ask a question or suggest future topics, use the #askatu2 hashtag on Twitter. If you have a U2 trivia question for us, use the #stumpm2 hashtag.
Thanks again for listening!

Posted: September 30, 2015



U2's "Every Breaking Wave" is nominated for Best Music Video and Best Cinematography in a Music Video at the upcoming Camerimage awards.

The festival website describes the event as, "The greatest and most recognized festival dedicated to the art of cinematography and its creators—cinematographers."

Cinematographer Steven Annis and Director Aoife McArdle will be recognized, should the video win. U2's competitors for the awards include Pharrell Williams, Rhianna, Florence and the Machine, and Imagine Dragons.

The winners will be announced at the festival's closing ceremony in Bydgoszcz, Poland on Nov. 21. No word yet on whether any of the band members will attend, but they do have a break between their Belfast and Dublin gigs at that time.

Posted: September 28, 2015



Videogame makers Harmonix and Mad Catz have announced U2's "Cedarwood Road" and "I Will Follow" will be among the songs featured in the upcoming release of Rock Band 4, available for pre-order starting today. According to the game's press release, "fans can expect additional U2 tracks to be added to the in-game Music Store for download after launch." Other artists include Aerosmith, Avenged Sevenfold, The Black Keys, Elvis Presley, Fall Out Boy, Foo Fighters, Jack White, Mark Ronson ft. Bruno Mars, St. Vincent, Queens of the Stone Age, Van Halen, The Who and many others. The game will be released on October 6.

Posted: January 15, 2015


We've had a few questions come in about legitimate places to buy, sell or trade U2 concert tickets with other fans, so consider this a Public Service Announcement aimed at answering a question that may be on a lot of fans' minds.
Officially, there are still some tickets for certain shows available via official ticket outlets (i.e., Ticketmaster in North America). The tour page on U2.com appears to be pretty up-to-date about which shows still have tickets available.
Beyond that, we also have a dedicated board in our forum for fans to buy, sell and trade tickets directly with other fans and only at face value. All of the existing shows are listed individually, so just find the show(s) you're interested in and add your post or see what others have already posted. Selling or trading GA tickets may be difficult due to the paperless ticket requirements, so keep that in mind as you offer those tickets or search for them.
And be sure, if you do use this section of our forum, to read the post at the top of the board -- "Rules for Ticket Buying/Selling/Trading." We don't hesitate to boot people that try to make a profit from selling tickets in our forum.