Bits & Bytes
A collection of the latest U2 news and announcements posted by our staff.





U2 honored their late friend Dennis Sheehan today. Bono, The Edge, Adam and Larry attended the anniversary mass of the band's tour manager, who died one year ago today during the Innocence + Experience tour.

WLR FM reported that the band landed in Dungarvan, Ireland, in a helicopter, making a surprise visit to Sheehan's family and townspeople.

Then, the band went to Downey's Bar and took photos with fans.

Photo Credit: U2 Instagram

Posted: May 26, 2016



Bono is a green-eyed, reddish-headed, tie-wearing, seaworthy cover boy for Q magazine's 30th birthday special issue. The magazine apparently includes an article: "Bono Writes: What I've Learnt in the Last 30 Years." The issue will be on sale, print or digital, on Tuesday, May 31.
Posted: May 20, 2016



One Republic's Ryan Tedder, who had production credits on four tracks from Songs Of Innocence, is apparently co-producing Songs Of Experience, too, and talked about U2's progress in a recent Radio.com interview:

"What is the most modern thing you can do that still has the DNA and soul of U2 but just elevates the songs [by making them] more accessible? It's a very, very accessible sounding record. But it's not pop. It's just great. It's like: I would buy this album. And I know that a lot of our younger fans would buy, or stream, the album."

Tedder sounds like a fan of All That You Can't Leave Behind, because he says U2's new material is "the most exciting stuff" he's heard since that album.

Opinions aside, the most newsworthy thing from the Radio.com interview comes when Tedder says U2's next album may only have one or two songs that were remaining from Songs Of Innocence.

Posted: May 20, 2016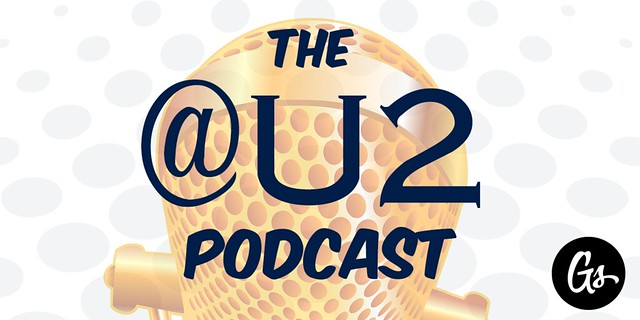 Our newest podcast is now available and ready for your listening enjoyment. This week, Sherry Lawrence, Aaron Govern and Chris Enns talk about the Paris DVD announcements and the merits of that $125 Super Deluxe version. They also share their admiration for The Edge's recent appearance on the Sam Jones program, Off Camera, answer a new batch of #askatu2 questions and more.
This week's show runs 48 minutes. If you've subscribed to the podcast via iTunes or your favorite RSS reader, you'll get the download automatically. You can also listen on the web:
We have a couple hashtags you can use to contribute to the podcast going forward:
#askatu2 -- if you have a response to something you hear on the podcast, or just want to ask a question or suggest future topics
#atu2podcast -- send a photo of yourself listening to the podcast
Thanks again for listening!

Posted: May 19, 2016



Bono has contributed to Louder Than Words, a new exhibit that opens Friday (May 20) at the Rock and Roll Hall of Fame and Museum in Cleveland. The exhibit "will showcase the intersection between rock and politics" and "explore how artists exercise their First Amendment rights, challenge assumptions and beliefs, stimulate thought and effect change," according to RockHall.com.

Bono narrates some of the videos throughout the exhibit, and is also featured in a short video where he explains the background of U2's 1987 song, "Bullet The Blue Sky." (Note: F-bomb included in this video.)

The exhibit is a partnership between the Rock Hall and the Newseum in Washington, DC. It'll move to DC for an opening there in January 2017.





A wreath-laying ceremony was organized today by Justice for the Forgotten to mark the 42nd anniversary of the Dublin-Monaghan bombings.

Bono (photo) and Adam attended a remembrance service at the memorial on Talbot Street in Dublin. A floral tribute on behalf of U2 was left there with the note: "Justice for the Forgotten. To all the victims and their families. In our thoughts and prayers on this day. Love, Bono, The Edge, Adam, Larry and Gavin."

Last year, U2 displayed photos of the victims on the screen during the I+E tour as a background for the song "Raised by Wolves," written about the 1974 massacre.

Posted: May 16, 2016



With the Innocence + Experience Live In Paris DVD just announced late last week, U2 is keeping the momentum up with today's release of a teaser from that show. The full version of "I Will Follow" arrived this morning on U2's Vevo channel, and is embedded below. (If you look closely, and if you care, you can see that the video is an edit of the song from multiple nights.)

With the DVD's arrival still several weeks away, I'd expect at least a couple more full-song videos to be released between now and then.





Swing those lightbulbs, U2 fans. The official announcement came today that the Innocence + Experience Live In Paris DVD will be released on June 10. Amazon.com and U2.com are offering preorders on four different formats:

Amazon: Single DVD / 2 Disc Deluxe DVD / 2 Disc Blu-Ray / Super Deluxe 3 Disc

U2.com has the most detailed information on the release formats:

Single DVD (2 hours, 31 minutes) ($19.98)
1. People Have The Power
2. The Miracle (Of Joey Ramone)
3. Vertigo
4. I Will Follow
5. Iris (Hold Me Close)
6. Cedarwood Road
7. Song For Someone
8. Sunday Bloody Sunday
9. Raised By Wolves
10. Until The End Of The World
11. The Fly
12. Invisible
13. Even Better Than The Real Thing
14. Mysterious Ways
15. Elevation
16. Every Breaking Wave
17. October
18. Bullet The Blue Sky
19. Zooropa
20. Where The Streets Have No Name
21. Pride (In The Name Of Love)
22. With Or Without You
23. Stephen Hawking 'Global Citizen'
24. City Of Blinding Lights
25. Beautiful Day
26. Mother & Child Reunion
27. Bad
28. One
29. People Have The Power (With Eagles Of Death Metal)
30. I Love You All The Time (Eagles Of Death Metal)

2 Disc Deluxe DVD ($24.95)
Includes all material in standard single DVD plus bonus DVD (1 hour, 30 minutes):
1. Cedarwood Road – A Gavin Friday Narration
2. Out Of Control (December 6th 2015 – Paris)
3. The Future Better Hurry Up
4. The Electric Co. (November 11th 2015 - Paris)
5. i + e - Behind The Scenes With The Director
6. Bad / People Have The Power (With Patti Smith - December 6th 2015 - Paris)
7. The Wanderer
8. The Troubles
9. Music Videos:

1. Ordinary Love
2. Invisible
3. The Miracle (Of Joey Ramone)
4. Every Breaking Wave - A Film By Aoife Mcardle
5. Song For Someone (Directed By Vincent Haycock)
6. Song For Someone (Behind The Scenes)
7. Song For Someone (Directed By Matt Mahurin)

2 Disc Blu-Ray ($24.95)
Same as the 2 Disc Deluxe DVD

Super Deluxe 3 Disc ($124.95)
Digital – All formats available in SD + HD Standard Format - Show Deluxe Format - Show + Extras
Exclusive USB Lightbulb
64-Page Hardback Book
Individually Numbered Dog Tags
Stencil Set Postcard Set
Sticker Sheet
Pin Badges
Digital Download Card

The U2.com shop is also bundling a DVD t-shirt along with the release at an additional cost as well.





Last night, Adam Clayton attended the 41st annual American Ireland Fund New York Dinner Gala. The event raised $2.7 million for hundreds of Irish charities.

"We in U2 benefited from access to musical education — it transformed our lives. We want the same opportunities for young people across Ireland," said Adam. "Music Generation is achieving this beyond anyone's imagination. We are delighted that The Ireland Funds have joined us in committing to extending the program."

He continued: "Forty years ago when we got together as a band, our ambitions were predictable and simple: We just wanted to be the biggest band in the world. Forty years on, that seems like an innocent conceit. It did give us a healthy respect for how music can change lives and it is a rewarding irony that the success of Music Generation has been more fulfilling than any other achievement. That is why we believe that Music Generation is more than a cultural project — it is a social movement, too."

Adam also paid tribute to Prince, calling him "an extraordinary talent" and pioneer of the "new America" music scene. He told The Irish Times that U2 met Prince a couple of times during the '80s and early '90s. "Before Prince you didn't have a black artist that could play lead guitar like, that could be on MTV and videos, that could be a fashion icon," said Clayton. "That didn't exist and from him and MTV forward, the whole music scene and cultural scene in America shifted, and I think that's why, particularly in America, Prince's passing is considered such a cataclysmic event."





What do you give to a 56 year old rock star who has everything? The African Well Fund has a great idea - a well!

For the 14th year, the African Well Fund is celebrating Bono's birthday by inviting everyone to make a donation in Bono's name to a clean water project in Africa. So far, U2 fans and supporters have raised $245,000 for Bono's birthday, benefitting over 73,000 people in Benin, Angola, Mali, Liberia, Burkina Faso, Uganda and Zimbabwe. This year, their goal is to raise another $5,000 to bring that total to a cool quarter million.

After making your donation, don't forget to sign the birthday card. Every year, a hand-made card gets delivered to Bono and your message will be included as a donor to the campaign. Bono has said it's his favorite birthday gift, so let's keep up the tradition of the gift that keeps on giving. Donations will be accepted through May 31 for this year's Build A Well For Bono's Birthday campaign.