Bits & Bytes
A collection of the latest U2 news and announcements posted by our staff.

Posted: June 30, 2016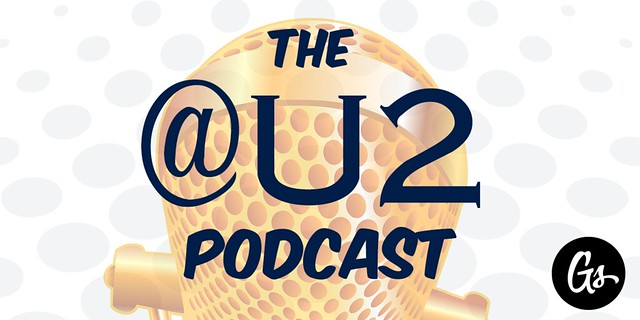 This year is the 40th anniversary of U2's first meeting as a band in Larry's kitchen, and our podcast is going to celebrate #U240 with a series of shows that dive deeply into every album the band has released. We begin this week, appropriately, with U2's first album, Boy. Sherry Lawrence, Tassoula E. Kokkoris, Chris Enns and myself also chat about recent U2 news and answer a bunch of #askatu2 questions.
This week's show runs 76 minutes. If you've subscribed to the podcast via iTunes or your favorite RSS reader, you'll get the download automatically. You can also listen on the web:
@U2 Podcast #34: Turn in Your @U2 Card Right Now ... A Discussion of Boy
We have a couple hashtags you can use to contribute to the podcast going forward:
#askatu2 -- if you have a response to something you hear on the podcast, or just want to ask a question or suggest future topics
#atu2podcast -- send a photo of yourself listening to the podcast
Thanks again for listening!

Posted: June 23, 2016



The Edge spoke with Billboard's Melinda Newman about the Innocence + Experience Paris DVD, band security after the Christina Grimmie and Pulse Nightclub incidents, U2's support of changes to the Digital Millennium Copyright Act (DMCA) as well as U2's new album and tour.

Edge said, "We are still busting our a** to try to get it out this year. That's our plan right now and exactly when, we're not sure. Now a U2 album has been known to be revised (laughs). This is the working assumption. This is our ambition. It could change, but we're really doing our best to get it out this year." He was not ready to give additional information about touring other than to state, "Short of announcing the plan, which I can't right now, we're still on target to get out there sooner rather than later."

The band's involvement in pressing for amendments to the DMCA stems from a desire to see musicians be paid for what they do. Edge said, "Our inspiration was for artists, mostly young and up-and-coming artists, who don't have any of the benefits of a live concert stream of income like U2. We're fine, but there is no doubt that for songwriters and performers who are relying on releasing their music on whatever services they get paid by, it's been a challenging shift from an industry that was paying artists well to a scenario that it's increasingly difficult to earn a living from your music. So, we're very concerned about the impact that would have on music culture going forward. There's no doubt that so many other industries have incredibly sophisticated lobbying organizations to look after their interests. We felt it was important for us to stand up and be counted as artists who have done well over the years and just want to make sure that up-and-coming artists enjoy the chance to continue to get to make music as we have. I guess we all feel like that's under threat."
Posted: June 22, 2016



Thousands of people gathered today in London's Trafalgar Square to pay tribute to British politician Jo Cox, who was killed last week.

Her family and friends attended the emotional event, which also included speeches by Nobel Prize winner Malala Yousafzai and a musical tribute from Bono, who worked with Cox on the Make Poverty History campaign.

Bono played an acoustic version of "Ordinary Love." The video, recorded in Los Angeles, included a personal message. "Jo had all the patience in the world for people who needed help," but all the impatience to create change and help them, Bono said.

U2 had already posted a tribute to Cox on Instagram. Bono wrote: "Jo Cox. A leading light who used her effervescent time on earth to fill it with joy and justice. She was a close friend to many of our team at ONECampaign. We pray for her family and for the blessing she was to those who knew her and to the millions of people she never met, but to whom she devoted her life."

Posted: June 21, 2016



Unbeknownst to me (and anyone else here at @U2), Adam Clayton did a live interview Tuesday (via Google Hangout) with the awards website, GoldDerby.com. The primary topic of conversation -- and the hook for the interview -- is last year's live broadcast of U2's December 7th Paris concert, which HBO is pushing to get nominated for an Emmy Award. Adam's appearance likely helps put the band and the HBO broadcast in the minds of those who select the Emmy nominees.

Chris Beachum, the managing editor of GoldDerby, spoke to Adam about that show as well as the terrorist attacks in Paris that led U2 to postpone the HBO airing from its original November 14th date. (Adam gives a little more detail than I recall hearing before about what happened on the day of the attacks.) The interview also covers U2's history with awards ceremonies and ends with Adam saying that the band still hopes to win an Oscar someday. The interview runs about 14 minutes and you can watch it below. (Thx to Andrew J. for the tip.)