Bits & Bytes
A collection of the latest U2 news and announcements posted by our staff.

Posted: July 25, 2016



Couldn't get tickets to our #U240Dublin event? Or maybe it's just too far away? Well, as promised, we're putting on a second event that will be closer to home for many of you.

@U2 is proud to partner with the Rock & Roll Hall of Fame for #U240Cleveland, a two-day celebration of U2's 40th anniversary that will take place on September 24-25, 2016.

We're working with the Rock Hall right now to schedule two full days of fun on Saturday and Sunday, but we don't have a ton of details to share at the moment. We're expecting the event to run from 10:00 am to 5:30 pm on both days, and there may be a Saturday evening element, too. The Rock Hall will be selling tickets, and we're working with them now to determine the best price. We'll share ticket information as soon as possible.

There are a number of quality hotels within walking distance of the Rock Hall. Our crew has found good rates at the DoubleTree (Cleveland Downtown-Lakeside), especially if you join (or are already a member of) the Hilton HHonors program. The DoubleTree also has a free shuttle that covers the downtown area. There's a Westin, Marriott and a Hilton nearby, along with several other hotels. If you're planning to join us, we recommend booking soon.

To be frank, we normally wouldn't announce an @U2 event with so few details to share. We've debated for the past several days, When should we announce this? Do we have enough information yet? But with the #U240 weekend just two months away, we wanted to tell you as much as we can now so you can start making travel plans. It'll be a really fun event. Many of our North American staffers will be there for the full weekend, and we hope to see many of our readers, too.
Posted: July 25, 2016



U2 is one of the headline acts at this year's iHeartRadio Music Festival at the T-Mobile Arena in Las Vegas on September 23-24, 2016. Joining them on Sept. 23 will be Drake, OneRepublic, Billy Idol and others. Presale tickets are now on sale through July 27 for MasterCard customers and general public sales start on July 30. We anticipate the music festival will be live streamed, and a highlights show will be televised over two nights, as has been previously done.

They will be performing ahead of their headlining gig at the Salesforce Dreamforce Conference on Oct. 5. While there is no official word on a release date for Songs Of Experience, today's iHeartRadio Music Festival announcement could be an indication of a pending album release ahead of the band's 40th anniversary of its inception on Sept. 25, 1976.

Posted: July 22, 2016


If you're planning to be at our #U240Dublin event, you already know about the sold-out party, live music and fun we've arranged for Saturday night, September 24th. But what about the rest of the weekend, right? Well, how would you like a guided tour of some of the most important U2-related sites in Dublin?

@U2 has connected with U2 fan and Dubliner Dave Griffith -- who's been doing walking tours of important U2 sites in Dublin for years now -- and he's agreed to offer four tours during the course of that weekend:

Saturday, Sept. 24: 10:30 a.m. and 2:30 p.m.
Sunday, Sept. 25: 11:00 a.m. and 3:00 p.m.

Dave has agreed to offer a special #U240Dublin/@U2 price of €10 per person, which is a few euros less than his normal rate. Space is limited (so that everyone can hear what he's saying and so that no one gets lost) and you must reserve a spot in advance. You can do that by emailing Dave at u2tours...@...gmail.com (without the ellipses) or calling him direct. The phone number is listed on his Facebook page -- hover over the "Call Now" button to see it. BTW, if you call, be sure to check the current time in Dublin.

Each tour will hit the same spots, so you only need to sign up for one. A tour lasts about two hours and, since you'll be walking, be sure to wear comfortable shoes. Once you've booked a spot, Dave will tell you where to meet and you can pay him in person at that time.

Posted: July 21, 2016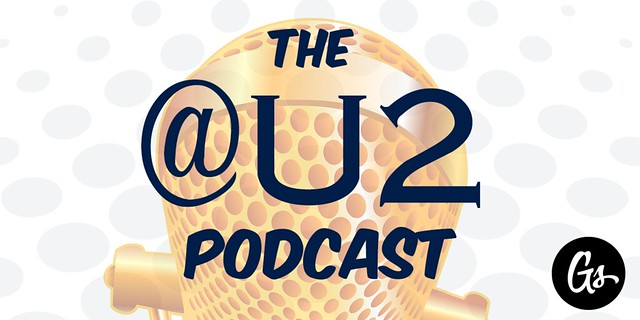 We're back a week earlier than planned with a special podcast continuing our #U240 stroll through U2's musical career. In this week's podcast, we move away from U2 albums and talk about our favorite non-album U2 songs, including "Electrical Storm," "Wild Irish Rose," "Mercy" and "North And South Of The River," among others. Sherry Lawrence, Tassoula E. Kokkoris, Chris Enns and myself also answer some #askatu2 questions.
This week's show runs 62 minutes. If you've subscribed to the podcast via iTunes or your favorite RSS reader, you'll get the download automatically. You can also listen on the web:
@U2 Podcast #36 - Rejection Letters From Principle Management (Our Fav Non-Album Songs)
We have a couple hashtags you can use to contribute to the podcast going forward:
#askatu2 -- if you have a response to something you hear on the podcast, or just want to ask a question or suggest future topics
#atu2podcast -- send a photo of yourself listening to the podcast
Thanks again for listening!

Posted: July 19, 2016



We've updated our #U240Dublin announcement from earlier this week, but I also wanted to post a second announcement to make sure more readers had the latest news on our #U240 plans.

In a matter of only five days, you managed to buy all ~300 tickets that were available for #U240Dublin -- the party is now a complete sell out! Thank you to all U2 fans who bought tickets to see The Joshua Tree and December and hang out together in Dublin in honor of U2's 40th anniversary. TBH, we're all more than shocked that every ticket sold in just five days. Wowza.

If you missed your chance for #U240Dublin, all is not lost. As we've said a few times in recent weeks, we're also planning an event in the U.S. that same weekend of September 24-25. We're almost ready to share the details of that event; please sit tight so we can finalize as many details as possible before sharing the news.

Thank you again for guaranteeting a full house and a great night for #U240Dublin!
Posted: July 17, 2016



Bono was reportedly in Nice Thursday night, eating dinner with friends at a restaurant not far from where a truck driver killed more than 80 people celebrating Bastille Day.

France's Le Figaro reported on Friday that Bono was eating at La Petite Maison, but reported little detail beyond that. Since then, the story has spread and more details have been come out. According to The Telegraph, Bono was dining with Elton John and the chef Alain Ducasse. Nice's former mayor was also in the restaurant. All were led to safety by police, according to The Telegraph and other reports. It looks like the restaurant is about a half-mile away from the Casino du Palais, which is where the truck stopped and police were able to put an end to the attack.

We've reached out to U2's public relations team for confirmation and any additional info, but haven't received a reply as yet. We'll update this if there's anything new to report.

As you likely know, U2 was also in France last November when terrorists attacked multiple locations across Paris.

Posted: July 14, 2016



7/19 UPDATE: SOLD OUT!!! THANK YOU TO EVERYONE FOR BUYING TICKETS AND SUPPORTING THIS EVENT!
@U2 has been throwing parties for U2 fans for more than a decade now, but we've never done one in Europe. That's going to change in a couple months as we celebrate U2's 40th anniversary in the band's hometown of Dublin!
You're formally invited to #U240Dublin, a fun night of live music, trivia and more happening September 24th at The Grand Social. We'll have two special musical guests: Dublin's own U2 tribute band, The Joshua Tree, will be the main entertainment for the night, and Scotland-based December will provide a special opening set. (You might recall their U2 tribute song, "Alison Stewart," from last year.)
The fun begins at 7:00 pm sharp on September 24th and tickets are on sale now for €14.50 via Tickets.ie.
7/19 UPDATE: SOLD OUT!!! THANK YOU TO EVERYONE FOR BUYING TICKETS AND SUPPORTING THIS EVENT!
To recap, here's what you need to know:
What: #U240Dublin, celebrating U2's 40th anniversary as a band
When: Saturday, September 24, 2016
Time: 7:00 pm
Where: The Grand Social, 35 Lower Liffey St., Dublin 1
Cost: €14.50
Food/Drink: Available for purchase from the venue